Steel & Tube lead local shares down

NZ Newswire
1/06/2016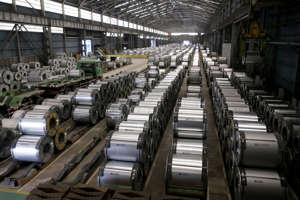 © REUTERS/Pichi Chuang/File Photo Steel & Tube lead local shares down New Zealand shares fell as Steel & Tube Holdings said it was the supplier of imported Chinese steel used in a roading development, while Fletcher Building and Metro Performance Glass also declined and Vital Healthcare gained.
The S&P/NZX 50 Index shed 17.08 points, or 0.2 per cent, to 7,022.33. Within the index, 28 stocks declined, 14 advanced and eight were unchanged. Turnover was $172.3 million.
"We've had a reasonably good run of late, but there's been a little bit of profit taking today after four days in a row up - you've got have a fall back from time to time," said James Smalley, director at Hamilton Hindin Greene.
Steel & Tube dropped 1 per cent to $1.94. The steel products distributor put out a late statement saying its earnings guidance from last week incorporated the impact of faulty Huntly bypass steel casings, after reports that Chinese steel, supplied by the company and which had been certified as strong enough to hold up four bridges, was actually too weak and the new bypass requires a serious repair job.
Last month the company cut its full-year guidance and said underlying earnings may fall 10 per cent to 15 per cent as margins contracted and it incurred costs related to quality issues for seismic steel mesh that wasn't independently tested.
Speaking before that announcement was made, Smalley said Steel & Tube had been "a severe under performer in the 50" for some time.
Fletcher Building shed 1.3 per cent to $8.83. Smalley said the stock had fallen on profit-taking, having gained 22 per cent so far this year.
Vital Healthcare advanced 2.2 per cent to $2.305.
Metro Performance Glass was the worst performer, dropping 3.9 per cent to $1.72. Trade Me Group fell 2.9 per cent to $4.76, New Zealand Refining Co dipped 2.7 per cent to $2.51, and Fonterra Shareholders Fund fell 2.6 per cent to $5.70.
Auckland Airport dropped 0.4 per cent to $6.215.
Freightways was the best performer, up 3.2 per cent to $6.81, and Fisher & Paykel Healthcare rose 2.8 per cent to $10.74.
Chorus gained 2.5 per cent to $4.1.
Outside the main index, NXT-listed Oceania Natural dropped 6.1 per cent to $2.30 and Kirkcaldie & Stains was unchanged at $3.25.