Steel beat Pulse to remain unbeaten

NZ Newswire
23/05/2016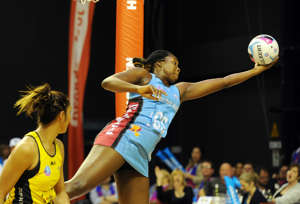 © SNPA / Ross Setford Steel's Jhaniele Fowler-Reid keeps the ball in play against the Pulse in the ANZ Championship netball match at TSB Bank Arena, Wellington, New Zealand, Monday, May 23, 2016 Shooter Jhanielle Fowler-Reid was at her prolific best as Southern Steel squeezed past Central Pulse 67-63 to retain their unbeaten record in the trans-Tasman netball league.
The Jamaican international was close to unstoppable, landing 54 of 55 shots as the Steel pulled even further clear at the top of the New Zealand conference.
Six wins and a draw pushes the southerners eight points clear of their nearest chasers and virtually guarantees them a play-off berth with six rounds remaining.
The match was closer than anticipated, with the Steel needing a burst of scoring early in the final quarter to see off a last-placed Pulse side who haven't won since the opening round.
Pulse coach Tanya Dearns tried everything to ruffle the imposing Fowler-Reid, switching defenders Katrina Grant and Phoenix Karaka between goal keep and goal defence at each break.
It didn't work as the hard-working Steel midcourt kept finding their star shooter with ease, helping equal their highest score against the Pulse in 17 previous meetings. Steel goal attack Te Paea Selby-Rickit put up just 21 shots, landing 13.
Pulse shooters Maia Wilson (37/40) and Ameliaranne Wells (26/28) were both sharp although Wilson had her hands full with impressive Steel goal keep Jane Watson, who notched three intercepts and four deflections.
Pulse were up by four midway through the second quarter against a Steel side who looked rusty coming off a bye before finding their rhythm when it counted.