Stolen high-end cars still missing

NZ Newswire
22/07/2016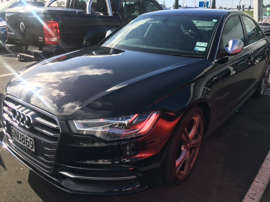 Several pricey cars remain missing following a large-scale heist on Auckland's North Shore.
A Shelby Mustang is among the cars recovered since the break-in at the Tristram European workshop in Wairau Park this month.
The burglars took nine of the 30 high-end European vehicles at the yard after getting past security systems.
Police say a member of the public spotted four of the cars, including the Mustang, in an underground car park on Monday, while another was found in Glendene.
But four of the vehicles, including two VWs, an Audi S6 and a Toyota Yaris are still missing.
"We've carried out a number of examinations on the cars that have been recovered and we have quite a few lines of inquiry that we're looking at," Detective Scott Sherer said.
"At this point in time though I can't speculate on what the cars have been stolen for, or where they might be headed."
CARS STILL MISSING:
* 2016 A white VW Crafter van (JYJ506)
* 2016 A black VW Golf GTI (not registered yet)
* 2012 A black Audi S6 Sedan (GNU869)
* 2006 A blue Toyota Yaris (DKG824)