Stowers fit to play after practice scare

NZ Newswire
24/01/2017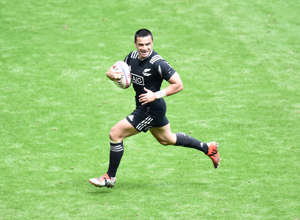 New Zealand are putting horrendous Wellington weather and an injury scare at practice behind them as they build towards this weekend's round of the world sevens series.
Experienced back Sherwin Stowers hobbled off midway through a wild and woolly training run on Wednesday to have his right calf treated.
A team spokesman said the move was precautionary and that Stowers would be fit to train again the following day.
Coach Scott Waldrom will hope to prepare in better conditions after high winds and rain ravaged his new-look squad.
There are four new caps in the 14-strong All Blacks Sevens, who are chasing a fourth successive Wellington title.
Waldrom says Otago playmaker Vilimoni Koroi and Tasman trio Trael Joass, Andrew Knewstubb and Tone Ng Shiu had all settled well this week but their inexperience needed to be catered for.
"They're pretty quick learners," Waldrom said.
"The hardest thing for them is going into a full-time programme where you're actually training every day and working every day. We've had to be a bit more lenient on what they do."
Waldrom is tipping a big future for playmaker Koroi, who he compares with his co-coach and former New Zealand sevens great Tomasi Cama.
"Vili's been on the radar for quite a while. Now that he's out of school and in this environment, we're pretty lucky," Waldrom said.
"I guess he brings that Fijian flair, something we haven't had for a few years since Tomasi was last in the team. He's just got that ability to set others up."
New Zealand are fifth heading into round three of the 10-leg series.
Their pool opponents are Samoa, France and the United States.