Stranded whales rescued in Northland

NZ Newswire
23/06/2016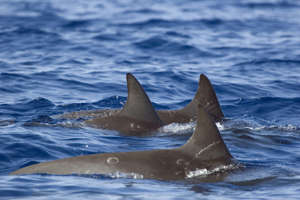 A pair of whales have been rescued after stranding in Northland's Kaipara Harbour.
The Fire Service was called in to help two pygmy sperm whales that had washed up at Glinks Gully on Thursday afternoon.
A Department of Conservation spokesman said the whales had been successful refloated by about 5pm with the help of the local volunteer fire brigade.
"Attempts to refloat them from the beach were unsuccessful. So they were loaded onto a DOC truck and taken to Pouto Point, at the mouth of the Kaipara Harbour," he said.
"The whales were successfully refloated in the deeper water. They swam across the bar at the mouth of the harbour and headed out to sea."
Pygmy whales grow to a maximum of about 3.5m, roughly the same size as bottlenose dolphins, he said.