Strong winds and snow in wild weekend

NZ Newswire
24/07/2016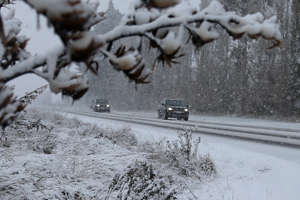 Westerly gales are lashing most of the country and there's snow to low levels in the south of the South Island.
Gales are being recorded as far north as Auckland and hurricane-force winds are slamming parts of the lower North Island, weatherwatch.co.nz says.
Gusts of more than 130km/h are affecting exposed parts of coastal Wairarapa, while Wellington has gales up to 100km/h on Sunday afternoon.
There's snow in parts of Southland.
"Eastern Southland has joined the areas with some snow on the ground, just been talking with the team there and they report 20 to 30mm in their patch," Emergency Management Southland reports.
Many ski areas are closed, or partially closed, due to high winds but they say it's snowing and skiing will be good when the winds drop.
"Good news is the new snow is awesome!" Treble Cone Ski Area near Wanaka in Central Otago posted on its Facebook page on Sunday.
Traffic officials are warning people to drive carefully as they return to cities on the last weekend of the school holidays.
The Fire Service responded to about 20 calls over downed powerlines and trees due to winds across the upper North Island, although no major damage was reported, a spokeswoman said.
The lower North Island was a similar story, with call-outs about minor weather-related damage still coming in on Sunday morning.
Homes at Waiau Pa in rural south Auckland were flooded due a king tide and two roads in Porirua were closed for several hours due to waves overnight.
Winds of up to 140km/h are expected to batter Wellington, Wairarapa and the Marlborough Sounds until Sunday afternoon, with other parts of the lower North Island also in for gale-force winds.