Support for National is up in poll

NZ Newswire
20/01/2017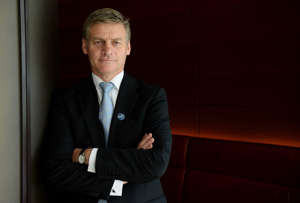 © AAP Image/Dan Himbrechts Bill English Support for National has risen in the latest Roy Morgan Poll and NZ First leader Winston Peters is increasingly looking like a kingmaker.
Support for National rose one point to 46 per cent and is now well ahead of a potential Labour/ Greens alliance on 39.5 per cent, down 3.5.
During December support for National fell by 4.5 points to 45 per cent as Bill English triumphed in the process to replace John Key as party leader and prime minister.
This latest poll was conducted by telephone between January 3 and January 16.
Labour's support was at 27 per cent, down 1.5, and the Greens fell two points to 12.5 per cent.
"It looks increasingly likely that New Zealand First - led by New Zealand's version of US President-elect Donald Trump, Winston Peters - will play in a big role in determining who forms government after this year's election - New Zealand First support increased to 9 per cent, up 1.5 per cent," says Gary Morgan, executive chairman of Roy Morgan Research.
The Maori Party was up a point at 2 per cent, Act NZ was unchanged on 0.5 per cent as was United Future on 0.5 per cent.