Sustaining rowing streak grew tough: Bond

NZ Newswire
1/05/2017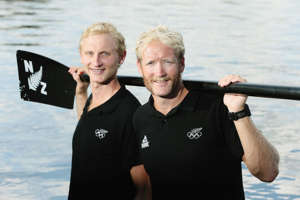 Dual Olympic gold medal-winning rower Hamish Bond admits the pressure he and Eric Murray faced in defending their unbeaten record began to tell.
Murray has decided to call it quits just shy of his 35th birthday, bringing down the curtain on one of the sport's most successful combinations.
After teaming up as a pair in 2009, Bond and Murray will finish their partnership undefeated, with London and Rio gold as well as seven world championship titles to their name.
"It did feel in some ways that it was harder to go after the win, and to sustain that for 69 races in a row did start to play on our minds the last couple of years," Bond said.
"Our relationship was successful due to the fact that we never lost, meaning we never had to ask each other the hard questions."
Bond said the key to that success was a mutual respect.
"There was no dominant force and it was that constant competition that drove us to great things."
Bond, 31, is taking a sabbatical from rowing and is unsure if he will return to the sport after a successful transition to road cycling.
He finished eighth in the Tour of Southland before going on to win the Abel Tasman Cycle Challenge and coming third in the time trial at the New Zealand championships.
"I'm heading to the UK and Europe for a couple of months just to continue my growth in cycling," he said.
"I'll just take that one training block at a time and see how I progress."
The deadline for Bond to make a decision on whether he will return to international rowing is September and he admits the physical preparation would take some effort.
"I've stripped 13 kilos and I would have to do some serious work just to get back into shape," he said.