Swells likely cause of Waihi tuatua deaths

NZ Newswire
20/04/2017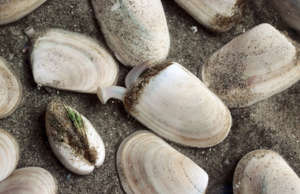 Big sea swells are believed to have been behind the large numbers of tuatua washing ashore at Waihi Beach in March.
Tests have concluded that contaminants or disease are unlikely to have caused the die-off, Bay of Plenty Regional Council says.
The beaching happened days after a storm, the Tasman Tempest, struck New Zealand.
The council, Waikato University and the Ministry of Primary Industries ran a series of tests on samples of the tuatua, or pipi.
Staff checked for the presence of heavy metals, algal biotoxins and other indicators of contamination.
Council environmental scientist Rebecca Lawton says the levels found were comparable to those recorded in live, healthy tuatua.
Results also indicated that bacterial or viral disease was not a likely cause of the die-off.
Although the images of the hundreds of shellfish caused concern, council scientists believed the beach remained a healthy habitat for shellfish.