Sword attacker deceived caregivers

NZ Newswire
16/09/2016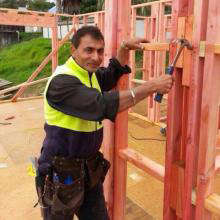 A mentally ill man who attacked his ex wife with a ceremonial sword in Hamilton deceived his caregivers.
This is one of the findings of an independent review of the care of Manjit Singh released by the Ministry of Health on Friday.
Singh was a special patient under the Mental Health Act after being found not guilty by reason of insanity of serious charges relating to a 2008 attack on his partner.
When he breached the conditions of his leave, and again attacked his former partner Leonie Singh with the sword in November 2015 he was on leave from the Auckland-based Mason Clinic.
She suffered severe injuries to her head, arm and hand after repeated blows from the sword.
The Director of Mental Health, Dr John Crawshaw, commissioned an external review.
The review said Singh had deceived his caregivers. He had stopped taking his medication and repeatedly breached the conditions of his leave.
Breaches were withheld from Mason Clinic staff by family members in the belief that Singh was well.
The report found shortcomings by the Mason Clinic needed to be interpreted in the light of these overriding factors.
The review essentially found the existing restrictions on special patients were appropriate, but made recommendations on improving their local application.
All recommendations have been accepted by the Ministry of Health and Waitemata District Health Board.
The attack occurred in the context of a "series of unfortunate circumstances that are unlikely to be repeated".
Dr Crawshaw said all those involved were highly motivated to learn from the incident.
In July 2016 Mr Singh was sentenced to jail for seven years and to be detained in hospital as a special patient under the Mental Health Act while he is mentally unwell. The time spent in a secure mental health service counts towards his sentence.