Tax cuts will be an election issue

NZ Newswire
20/10/2016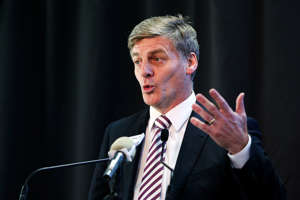 Tax cuts are shaping up to join the housing shortage and homelessness as big ticket items in next year's election campaign.
When a $176 million surplus was forecast for the 2015/16 financial year, tax cuts didn't look like much of a prospect.
But Treasury's final accounts, released last week, changed that.
The surplus was $1.8 billion, mainly because tax revenue was much higher than expected.
If that trend continues, the surplus for the current financial year will be much higher than the modest forecast of less than $1b.
If that happens, Finance Minister Bill English could have sufficient "fiscal headroom", as he calls it, to hand some of it back.
Even with the $1.8 million in the bank and more in the pipeline, he's still cautious.
"We may have the opportunity to reduce debt faster and, as we have always said, if economic and fiscal conditions allow we will begin to reduce income taxes," he said after the final accounts had been released.
He has previously said any tax cuts will target low and middle-income households.
If English thinks he can afford it, he's likely to announce tax cuts in Budget 2017.
That would be in May, with a September election about four months later.
But while "vote for us and we will cut your taxes" sounds good, it also gives the Labour Party a weapon to use against the government.
It will, of course, call the tax cuts an election bribe. Opposition parties always do.
But it will also reel off an impressive list of social deficits, starting with thousands of homeless people.
It will question whether New Zealanders prefer tax cuts to helping those most in need.
It will set out the plight of those people in graphic detail, it will find others who are ill but can't get on a hospital waiting list.
It will accuse National of allowing children to die from diseases caused by mouldy houses, and it will say a Labour-led government will fix all those problems before it cuts taxes.
English, Prime Minister John Key and the cabinet will have to weigh up these issues before deciding whether to cut taxes, and by how much.
Previous governments have been scorned by opposition parties for delivering modest tax cuts.
Remember the reaction to Labour's 2008 budget? It cut taxes by $16 a week for someone on the average wage, effective from October that year - just before an election.
"Labour's going to get a revival, they think, going to the polls having given the average worker of New Zealand a family-sized block of cheese" - John Key, leader of the opposition.
Labour lost the election.