Taylor coy on return despite net session

NZ Newswire
22/12/2016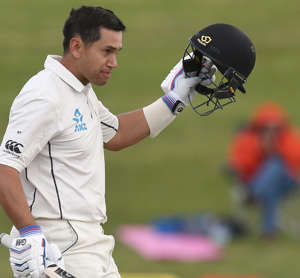 © Dave Rowland/Getty Images Ross Taylor of New Zealand Ross Taylor's return to cricket is gathering momentum after having a net session with the Central Stags in Hamilton on Thursday.
Taylor missed the recent Chappell-Hadlee series in Australia after having an operation three weeks ago to remove a growth from his left eye that was affecting his vision.
The former Black Caps skipper was in fine form before going under the knife, scoring 102 not out in New Zealand's 138 run second test win against Pakistan at Seddon Park last month.
However, Taylor remains coy about when he will be back on the park for the Stags in the 20/20 Super Smash.
"I talked to the surgeon last week and he was happy with the way we were progressing.
"It's nice not to be wearing sun classes around the house so I'm just excited to be hitting cricket balls again.
"There is a few games over the next little while that I would like to be part of so hopefully we can get the green light soon" he said.
The 32-year-old has only played one game for Central Districts in the last two seasons and is keen to make an impact when he returns.
"With the hectic international schedule it's nice to be back playing domestic cricket and hopefully when I do come back we can get CD through to a semi or even the final."
Taylor was left out of the Black Caps squad for the upcoming One Day series with Bangladesh but has one eye on the 20/20 matches to follow in the new year starting on January 3 at McLean Park.
"There is always little goals and that wouldn't be a bad one.
"I think it's one of the first international 20/20 games to be played in Napier and it's been a good ground for me in the past so I wouldn't rule it out" Taylor said.