Taylor's eye overshadow's Boult's knee

NZ Newswire
24/11/2016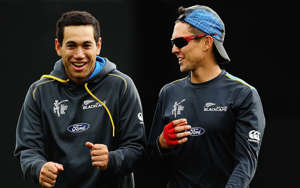 There are contrasting fortunes for Ross Taylor's left eye and Trent Boult's right knee ahead of the second cricket Test against Pakistan.
Strike bowler Boult - who would have been potent in what are predicted to be swing-friendly conditions at Hamilton's Seddon Park - has been replaced in the squad by Doug Bracewell because of an irritated joint.
However, Thursday's pre-match squinting focus - where the hosts can seal their first series victory over Pakistan since 1985 - was more on Taylor's left eye.
The senior batsman will have an operation to remove a pterygium growth on Wednesday, the day after the match finishes.
However, he was always confident he would play as the tests showed he still had good vision.
"I am looking forward to this Test. I can't say I'm looking forward to the operation after what it entails but I am sure we'll get over it."
Pterygium is also called "surfer's eye" and can affect anyone who spends a lot of time outside.
Taylor, 32, said he had had it for about five or six years.
The eye got irritated when it was windy and was unrelated to his habit of exaggeratedly widening his eyes while batting.
"You go down to breakfast and your eyes a bit red and the team think you've been out all night, where I've been in bed."
It wasn't until the Test in Brisbane last year that he start to go about getting it sorted.
"It was pretty cloudy and might even have had a little bit of rain.
"But I came off the field I couldn't really see much and then I took a one-handed catch next over so I'm not quite sure what happened there.
The surgeon was pretty confident recovery time would be four to six weeks.
"Until I've had the operation I won't know whether it's improved or not."
He admitted discovering the problem during a Test match was mentally distracting.
"When you play and miss your first couple of balls after seeing an optometrist ... some interesting things go through your mind."
He acknowledged critics might blame his eyesight if he didn't score many runs.
"I am sure that will be the case, if that happens I can't worry about it, I'm going out there to bat and give my best with the bat and in the slip cordon.
"I can't really wonder about what if."
Taylor admitted Boult's injury was a loss for the side, but his likely replacement, Matt Henry, was probably the best-performed quick bowler on the recent tour of India.