Team NZ celebrated around the world

NZ Newswire
12/06/2017
Video provided by Reuters
After sailing away from their Swedish rivals in the challenger final in Bermuda, Team New Zealand fans around the world are taking to social media to celebrate.
Star Trek Into Darkness star Karl Urban wasted no time in sending his congratulations.
"Congratulations #TeamNZ. Winning the #Americascup Challenger series. Fantastic work [sic]".
Congratulations #TeamNZ
Winning the #Americascup
Challenger series
Fantastic work

— Karl Urban (@KarlUrban) June 12, 2017
"Well done boys. Half way there. Stay grounded, but the win speaks volumes [sic]," tweeted a supporter Nick Elias.
#etnz #americascup well done boys jalf way there stay grounded but the win speaks volumes

— Nick Elias (@NickeliasNZ) June 12, 2017
However, Team NZ skipper Peter Burling says the team has a lot of work to do in the week ahead.

"We feel like we've been pushed really hard in the last couple of weeks... But we're a lot stronger for it.
"It definitely feels like were still on a steep part of that learning curve still."
Despite that, the general consensus from Kiwis, at home and abroad, was pride.
"Super proud of this bunch of kiwis," one man said.
"Such incredible talent on both boats & It's going to be great to watch it unfold," fan Chris Latham tweeted.
Burling admits it's not been an easy road.
"By no means are Artemis are weak team. They pushed us right to the end .
"We are learning incredibly fast. We're a lot better team than we were yesterday, and that's full credit to our challengers."
Team NZ will take on Team USA for the America's Cup this weekend, and fans can't wait.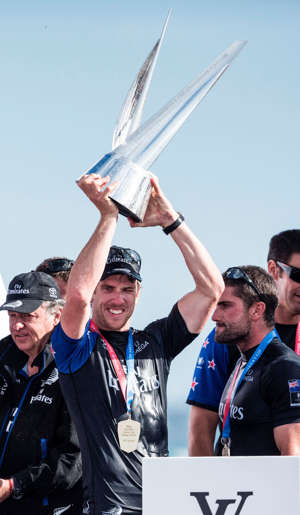 "Bloody awesome #ETNZ now bring #AmericasCup2017 home to #NZ where it belongs [sic]," Whangaparoa fan Rob Mortensen tweeted.
"Well done Team NZ, looking forward to Sunday morning," another follower tweeted.
"One step closer to our ultimate goal. Next up the @americascup," was the official word from the team's Twitter account.
The #LVAC Playoffs Trophy! Hard earned but not the end goal. Next up the @americascup pic.twitter.com/pn2ZKgapho

— EmiratesTeamNZ (@EmiratesTeamNZ) June 12, 2017