Team NZ in dominant position over Swedes

NZ Newswire
11/06/2017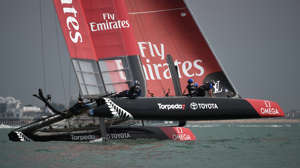 Team New Zealand are one race away from an America's Cup Match berth against Team USA after securing a 4-2 lead over the Swedish syndicate in their challenger playoff final in Bermuda.
Having won one race apiece in early proceedings on Monday (NZT), the Kiwis put the hammer down in the last of the day's three races with a classy showing.
The Nathan Outteridge-led Swedes started in better shape on Great Sound but couldn't maintain their lead and were duly reeled in by a flank-hugging Team NZ, until rallying late to lose by just one second.
The result leave Team New Zealand just one win short of securing the best-of-nine play-off and engineering a Cup Match showdown with the Americans.
They'll have the chance to do so on Tuesday morning (NZT).
"We definitely did it a little tough there from where we came from," Team NZ helmsman Peter Burling said.
Earlier, the Swedish syndicate had levelled the scores at 2-2 with a first-up victory in tough conditions, winning by 15 seconds.
But they were forced to retire for a second time in the playoff after a daggerboard issue saw them lose control and stagger off course.
They had also retired once in Sunday's action after Outteridge slipped into the water, causing the Swedes to go awry.
The Cup Match, should Team New Zealand qualify, will be held next weekend.