Team NZ into Cup Match against Team USA

NZ Newswire
12/06/2017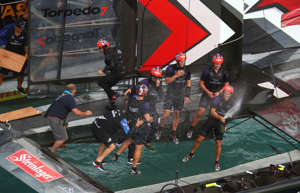 The rematch is on.
Team New Zealand will challenge Team USA for the America's Cup after sailing away from their Swedish rivals in the challenger final in Bermuda.
The Kiwis won the delayed seventh race in dominant fashion in Bermuda on Tuesday (NZT) to win the best-of-nine challenger final 5-2.
It sends Team NZ into a best-of-13 Cup match against Team USA, beginning with two races on Sunday (NZT). The defenders start with a one-point advantage after winning the qualifying series.
It's the same combatants who squared off for the Auld Mug in San Francisco four years ago, when the Americans famously recovered from 8-1 down to triumph 9-8.
If the post-race thoughts of helmsman Peter Burling are any guide, the Kiwi syndicate are determined history won't repeat.
He says they have made major strides during the three weeks of racing in Bermuda, emerging better sailors and with a superior boat following incidents such as their dramatic capsize during the semi-final series against Britain's BAR.
"We're really happy to be going into the Cup Match and I feel we can bring it home to New Zealand," Burling said.
"We feel like we've had an incredibly tough road to get here. We've gone through a lot of adversity with things like the capsize and some tough races here and there.
"One thing about this team is they've dug super deep to get us to this point and keep making the boat go faster, while fixing the things we'd broken."
Team NZ were highly impressive in how they dispatched the Swedes after a first attempt to sail race seven was abandoned midway through when the winds dissipated.
The race re-started two hours later and Team NZ never looked like losing after rounding the first mark in front.
A clear speed advantage pushed them nearly 300m clear up the first upwind leg, leaving Burling to concentrate on simply getting around the course from there.
He said their 56-second winning margin reflected his boat's perfect set-up for the lighter winds.
"The boat was going seriously fast," he said.
"We made a great start and all the little things we were working on all week came together."
Burling believes their time competing on the water could hand them an advantage over Team USA, who have been limited to testing for the past fortnight.
He paid tribute the challenge of the Swedes and their Australian skipper Nathan Outteridge, a long-time rival in the Olympic 49er class.
"We've had some really hard racing from an amazing team. It'll definitely put us in good shape," Burling said.
Outteridge said Team NZ were simply to quick in the final race before commending his own team-mates.
"I'm really proud of our guys. The next question is if we come back for another go," he said.
"We thoroughly enjoyed this campaign. It's such a good event."