Team NZ recover from shaky start

NZ Newswire
23/07/2016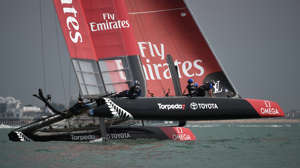 Team New Zealand's makeshift crew struggled initially in practice racing at the seventh America's Cup World Series regatta in Portsmouth, but finished the day with a win.
The Kiwis finished sixth and last in the first race, which was dominated by Sir Ben Ainslie's Land Rover BAR team.
The British team finished almost one minute clear of second-placed Groupama Team France and just under two minutes ahead of Dean Barker's Softbank Team Japan.
New helmsman Glenn Ashby steered Emirates Team NZ across the start line ahead of the pack in race two, but had to take an immediate penalty after crossing a split-second ahead of the official start time.
Ainslie's local knowledge helped his team to a 54-second win ahead of Jimmy Spithill's Oracle USA, with Team NZ again sixth.
The New Zealanders fought back to finish second in the race three behind Team Japan, and improved further to win the fourth race of the day, which will stand as a substitute race if racing is delayed over the next two days.
With regular helmsman Peter Burling and crew Blair Tuke in Rio for their 49er Olympic gold medal bid, Team NZ took to the water with a reshuffled line-up.
Tactician Ray Davies said it took a few races for the new-look crew to find their feet.
"We really needed today to iron out our crew work as every race we felt like we were tacking and gybing better even though we weren't getting results," he said afterwards.
"It was great to win the last one. However, we have to do a big debrief tonight as there is still a lot of room to improve and we have a lot of work to do."
After six regattas in the series, Team NZ lead Land Rover BAR and Oracle Team USA by 10 points.
Points racing is scheduled for Sunday and Monday (NZT).