Team NZ struggle early on in Portsmouth

NZ Newswire
23/07/2016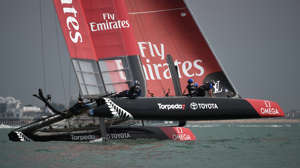 A new-look Team New Zealand have retained their overall lead in the America's Cup world series despite a ragged start to the seventh round in Portsmouth.
The Kiwi syndicate placed third, fourth and sixth in a six-boat field on Saturday, struggling with difficult conditions and a new crew combination.
With regular helmsman Peter Burling and Blair Tuke preparing for their Olympic 49er campaign, Glenn Ashby adopted helming duties, with the wind trimming duties taken by regular tactician Ray Davies in their AC45 catamaran.
They did well to recover from an early headsail snag in the first race but found themselves grounded in light winds and tricky currents in race two and three.
British outfit Land Rover BAR notched two wins to share the regatta lead with Team France and climb ahead of Team USA into outright second place overall, four points behind the Team NZ.
Ashby is hoping for stronger winds on the second and final day on Sunday, when double points will be at stake.
"We have taken a lot from today, we still top the leaderboard and I can tell you the guys on board are focused on staying there," he said.
"It's about inches at the start of the race, getting the edge on the other guys and breaking clear."
There are nine rounds in the series, which carries points into next year's America's Cup regatta in Bermuda.