Team NZ too good for Ainslie's BAR

NZ Newswire
28/05/2017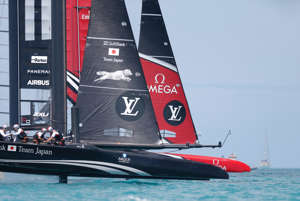 Team New Zealand have battled back from a timing error in pre-race manoeuvres to thump Britain's BAR on the second day of racing at the America's Cup regatta in Bermuda.
The Kiwis were hit with a two-boat penalty for breaking the start box early, gifting Ben Ainslie's crew a dream start and the lead by four seconds at the first mark.
The New Zealanders showed impressive downwind boat speed to power through on the second leg for a 2sec lead at the next gate.
From then on, Team New Zealand were clinical in extending their lead all the way around the track, eventually finishing 1:28 ahead.
It was their second win of the day, following a 33-second victory over Japan, helmed by fellow New Zealander Dean Barker.
The Japanese had built a 13sec advantage at gate four, but the Kiwis fought back on the fifth leg, demonstrating the full speed of their pedal-powered grinding systems.
Tacking and jibing incredibly smoothly, the Kiwis chased down their rivals before overhauling them heading for gate five.
Skipper Glenn Ashby said the tightly fought race had been a tough first-up assignment for the day, despite a solid start.
"We were just a fraction slow to accelerate because we were close to the start line and they just got over the top of us," he said.
"From there it was just all about keeping composed tactically and focusing on every manoeuvre.
"These young guys onboard are very cool, and our powerhouses were giving it everything."
Ashby said it had been important to put in a strong performance in both races.
"But we still feel we have plenty to improve on, and we are making the most of every minute of racing we can get at the moment because we haven't had much of it."
The Kiwis now have three wins and a loss in the challenger series after an early win over Team France on the opening was followed by a loss to cup holders Team USA.