Team USA pinch NZ pedal method for Cup

NZ Newswire
17/05/2017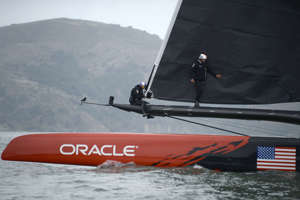 Team USA have seemingly taken a leaf out of the Kiwi book for their upcoming America's Cup defence by introducing pedal-powered grinders to their boat.
Team New Zealand surprised many by adopting pedal-powered, rather than arm-powered, grinders for their tilt at the 2017 title in Bermuda, which help to power the hoisting of sails.
The Americans, despite their initial criticism, appear to have followed suit after video emerged on Wednesday (NZT) of the team training on a "hybrid" boat with both pedal and arm-operated grinders.
At least one sailor could be seen pedalling in the video.
Team New Zealand admitted a few eyebrows were raised by the development, after reportedly extracting up to 40 per cent more power from their decision to move to pedal-powered grinders.
"It's a little bit of an interesting one and certainly something that our reconnaissance guys picked up on the dock," Team New Zealand captain Glenn Ashby told Fairfax NZ.