Teen sentenced over death of Luke Tipene

NZ Newswire
15/08/2016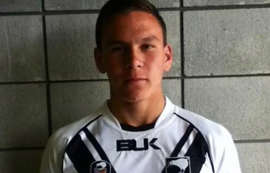 © Facebook Luke Tipene

After two "gruelling" trials, one verdict of manslaughter and a five-year jail sentence, the family of killed rugby league player Luke Tipene say they've been left wanting for justice.
Vincent Skeen, 18, was on Tuesday handed a sentence of five years' and two months' jail for killing 17-year-old Mr Tipene in Auckland's Grey Lynn on November 1, 2014.
Mr Tipene bled to death after Skeen - 16 at the time - plunged a broken glass bottle into his neck during a brawl between their friends outside a party.
Outside the court, Mr Tipene's uncle, Sean Wilson, told reporters the family was disappointed with the outcome.
"We came here for justice. Luke's not here so we've got to represent him. We've got to respect the result today. Unfortunately it wasn't the result we intended," he said.
Skeen's trial this year was the second both teens' families sat through, after a jury last year was unable to reach a verdict.
At the sentencing, the court heard a statement from Mr Tipene's mother, Terry Wilson, in which she said she had "not moved" since her son's death.
"From that very moment I lost my soul ... I look to the heavens and ask could He please take me too," she said.
"How as a mother am I able to deal with the fact I was not there for my son in his final horrifying moments?"
The court heard Mr Tipene had three sisters, including his twin.
He had been named the Auckland League's under-17 player of the year, was selected for the New Zealand Maori under-17 side and named in the New Zealand under-17 merit team.
Mr Wilson described him as having "a lot of mana" and making an incredible impression, the family still celebrating him once a year with support from New Zealand Rugby League.
Sentencing Skeen, Justice Mary Peters said it was clear Mr Tipene's death had taken a toll on a community and family that cherished him.
But she also acknowledged Skeen's actions on the night appeared to be totally out of character, and said she believed he wasn't aiming for Mr Tipene's neck.
Skeen's lawyer, Lorraine Smith, told the court Skeen had always been extremely remorseful and offered to plead guilty to manslaughter - which was rejected by the Crown.
"He's going to have to carry the guilty of Luke Tipene's death his entire life," she said.
Had the crown accepted the plea, Mr Tipene's family would have been spared two "gruelling" trials, Justice Peters said.
But Crown lawyer Brian Dickey said Skeen had found a dangerous weapon in a fist fight and swung multiple times, something that was always going to seriously hurt someone.
He said Skeen was "not unfamiliar" with the justice system, having a youth record for burglary and an assault.
During the second trial, the court heard neither Skeen nor Mr Tipene actually went to the party, but jumped into a fight between their friends afterwards.
The Crown said Skeen grew enraged after Mr Tipene knocked him over twice in the brawl.
He smashed a beer bottle, swinging it repeatedly until a blow landed, passing through Mr Tipene's jugular vein.
But Skeen's defence argued he had been dazed after being hit and never considered Mr Tipene could die.