Tegel soars while new player hurts Air NZ

NZ Newswire
3/10/2016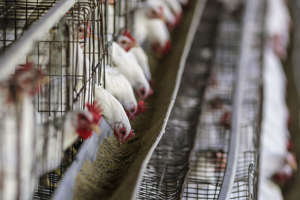 © Dhiraj Singh/Bloomberg Tegel soars while new player hurts Air NZ New Zealand shares gained slightly in light trading, led by Tegel Group Holdings and Meridian Energy while Air New Zealand dropped.
The S&P/NZX50 Index rose 11.4 points, or 0.2 per cent, to 7,372.49. Within the index, 27 stocks rose, 16 fell and seven were unchanged. Turnover was $100.5 million.
Tegel Group Holdings was the best performer on the index, up 5.3 per cent to $1.59. The poultry group, which was taken public by private equity firm Affinity Equity Partners in May this year, rose 9 per cent in its NZX debut and traded as high as $1.78 in August, but dropped to $1.50 yesterday.
Across the Tasman, Ingham Group, which is the largest chicken producer in Australia and the second-largest in New Zealand, is heading for an initial public offering and ASX listing.
"Obviously Inghams is looking to float on the Australian index, potentially some institutions are making some room on their books to take a bit of Inghams," Grant Williamson, director at Hamilton Hindin Greene, said.
Metro Performance Glass gained 3.7 per cent to $2.22, Meridian Energy rose 3.1 per cent to $2.68, and Westpac advanced 1.8 per cent to $31.75.
Early in the day, the index had seen some profit taking, but the Australian index was strong leading the local index to claw back some losses, Williamson said.
Air New Zealand was the worst performer, down 2.2 per cent to $1.82. Hainan Airlines on Monday became the latest international airline to announce a new route to New Zealand, with a service to Auckland from the Chinese city of Shenzhen.
On Friday, Air New Zealand chief executive Christopher Luxon reiterated his warning to shareholders that increased competition would lead to a fall in revenue in the current financial year.
Auckland International Airport was unchanged at $7.35, and has gained 28 per cent this year, benefiting from the increased competition, while the national carrier has declined 30 per cent, contending with a recovering oil price as well as new competitors.
Fletcher Building fell 1.4 per cent to $10.58, NZX dropped 0.9 per cent to $1.05, and Scales Corp dropped 0.9 per cent to $3.20.
Outside the main index, ERoad fell 8.6 per cent to $1.70, SLI Systems dropped 8 per cent to 46 cents, a record low, and Hellaby Holdings was unchanged at $3.32.