Tennis Auckland on hunt for Arena funding

NZ Newswire
3/01/2017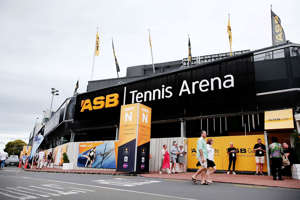 © Anthony Au-Yeung/Getty Images General view of the Tennis Arena as spectators arrive on day two of the ASB Classic on January 3, 2017 Tennis Auckland must secure $8 million in the next six months to prevent the derailing of their Auckland Tennis Arena renovation plans.
Plans to knock down and rebuild the western Yock Stand and install a retractable roof at the Parnell venue are slated to cost $18.5m, of which the organisation has collected $10.5m.
The remainder of the funding, Tennis Auckland say, will be collected from donations, public sources like Auckland Council and through their own commercial work.
A major funding announcement will also be made following this fortnight's ASB Classic, according to Tennis Auckland chief Brent Robinson.
But the organisation are keen to collect the money post-haste, with resource consent for the works already in place and off-site construction set to begin later this year.
Tennis Auckland hope that on-site Arena work, lifting capacity to 3700 and improving lighting, will then begin following next year's Classic.
If all goes to plan, renovations will be complete for the 2019 competition.
Robinson said the works were made particularly important by ATP and WTA regulations demanding minimum stadium sizes of 3500 for international meets.
At the moment, organisers are forced to apply for a pardon to stage the Classic at the Arena, which only holds 3000 people.
"That timeline is really important because what we can't do is jeopardise how we run the ASB Classic," Robinson said.
"Time is of the essence and (we) really need to secure the balance of that funding."
Robinson also said he was open to seeing non-tennis events held at the post-renovation Arena, whether sporting or otherwise.
Rain has now interrupted the first two days of the 2016 Classic, delaying the first-round matches of both Williams sisters and Kiwi player Marina Erakovic.
Beyond the on-court action, the tournament also serves as Tennis Auckland's key revenue-raiser each year through ticketing, food, drinks and sponsorship.
Classic director Karl Budge said the eyes of the tennis world were on a rain-soaked Auckland on Monday night as Serena Williams' match was postponed.
He didn't want to see such an event occur ad infinitum.
"It's no different to Hawkeye, it's one of those expected things, you've got to have surety of play and players notice that," Budge said.
"Anything that can show we're a big boy in the game, we'll keep punching as hard and above our weight as we can."
Serena's coach, Frenchman Patrick Mouratoglou, said the 35-year-old superstar was experienced enough to take any inclement weather in her stride.
But it would certainly be an asset for the Classic to have a roof.
"I don't think there are many tournaments outside of grand slams that have a roof, so that would be really incredible," Mouratoglou said.
Half of the Arena, including the players' area, has already been redeveloped as part of a 2011 agreement with a gym situated next door.