The 13 Coolest Abandoned Hotels and Resort Towns

The Huffington Post
28/10/2015
By Nicole TheodoreThis article originally appeared on Playboy.com.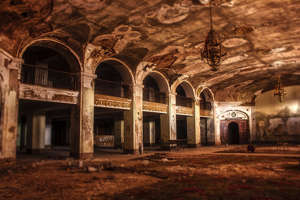 © Provided by The Huffington Post 2015-10-28-1446056408-503770-10551066313_516583ed74_o.jpg PHOTO COURTESY OF BINOMIALPHOTO / FLICKR
Located in some of the most luxurious and coveted spots around the world, these hotels and resorts used to have guests filing in and out for summer getaways and honeymoons. Now, the only things inhabiting the suites, ballrooms and lavish indoor swimming pools are mold and rodents.
But does that actually make these 13 hotels and resort towns cooler? Hell yeah it does.
I know, usually the adjectives 'cool' and 'abandoned' don't seem like they should be used in the same sentence, but they should be when you're talking about forgotten resort towns and hotels. From fancy French resorts to New York ski resorts, here are 13 hotels and resort towns you should consider visiting even though it might not come with a place to stay.
________________________________________
EL HOTEL DEL SALTO, COLOMBIA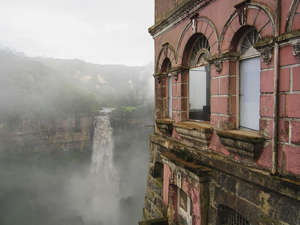 © Provided by The Huffington Post 2015-10-28-1446057572-208522-002.JPG PHOTO COURTESY OF PEDRO FELIPE / WIKIMEDIA
Usually abandoned places go hand-in-hand with also being haunted, and El Hotel del Salto checks both of those boxes. Once a huge tourist attraction to thousands of visitors because of the nearby Tequendama Falls, the hotel closed in the '90s because of the polluted river. It had its heyday in the '20s, but it now has also gained the reputation of being a "suicide spot."
HOTEL BELVÉDÈRE DU RAYON VERT, FRANCE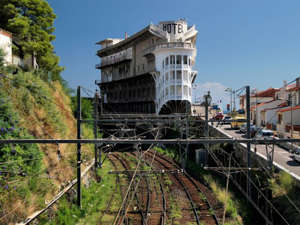 © Provided by The Huffington Post 2015-10-28-1446057695-8107095-003.jpg PHOTO COURTESY OF JORGE FRANGANILLO / FLICKR
Located in the gorgeous region of Southern France, Hotel Belvédère du Rayon Vert in Cerbère had everything from a tennis court to a ballroom to its own theater. But now the hotel, built in 1932 by architect Léon Baille, sits quiet and abandoned in the city. Most of the hotel is open to visitors though, so you can still get a peek inside the glorious art-deco building.
SANZHI UFO HOUSES, TAIWAN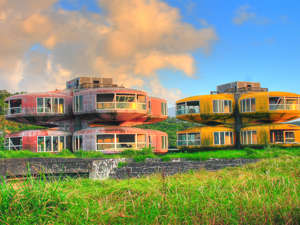 © Provided by The Huffington Post 2015-10-28-1446060130-4152999-004.jpg PHOTO COURTESY OF CHAO-WEI JUAN/ FLICKR
Now a popular tourist attraction in Taiwan, the dilapitated community of strange UFO houses were intended to emulate a futuristic resort town for U.S. military personnel posted in East Asia. The Taiwanese town was built in 1978, and is often referred to as "Pod City." Due to financial losses, lack of investment and a number of odd deaths during construction, the little town was abandoned a year after construction. Now it's a tourist attraction because of how eerily weird it is.
BOKOR PALACE HOTEL, CAMBODIA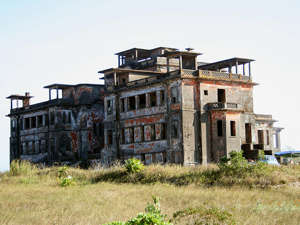 © Provided by The Huffington Post 2015-10-28-1446060144-8456723-005.jpg PHOTO COURTESY OF MATT CONNOLLEY/ WIKIMEDIA
Tourists from all over the world used to flock to Bokor Hill Station, considering it was a thriving French resort town away from the super hot capital of Phnom Penh. The town didn't survive after being abandoned twice though, and soon just became another ghost town. But its decaying buildings and hotels have become huge tourist attractions.
GROSSINGER'S CATSKILL RESORT HOTEL, NEW YORK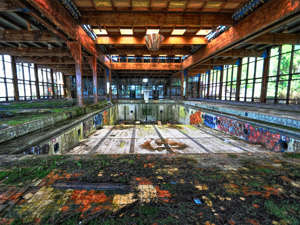 © Provided by The Huffington Post 2015-10-28-1446060186-2643689-006.jpg PHOTO COURTESY OF FORSAKEN FOTOS/ FLICKR
This might be one of the coolest abandoned spots in America. Situated within the Catskill Mountains, the giant resort used to host notable guests from all over, considering it was only two hours from the city and was a popular skiing spot. Complete with its own post office and a landing strip, the resort is now only visited by photographers and graffiti artists. Visitors have found everything from old payroll sheets to sets of old pool chairs next to the indoor pool.
OLD GAGRA RESORT COMMUNITY, RUSSIA
© Provided by The Huffington Post 2015-10-28-1446060208-3521005-007.jpg PHOTO COURTESY OF VASCOPLANET ABKHAZIA PHOTOGRAPHY VYACHESLAV ARGENBERG
/ WIKIMEDIA
Let's be real -- anything abandoned on the coast of the Black Sea in Russia is going to be super creepy and super cool. Just at the foot of the Caucasus Mountains, the subtropical climate made this resort town a coveted health resort during the Soviet era. Ghost resort town from the Soviet era? Sign me up.

More from Playboy.com:The 10 Craziest (And Maybe, Most Deadly) Bridges in the WorldHow To Explore Antarctica from a Private Yacht10 Haunted Places You Can Actually Go Spend the Night In (And How Much They Cost)
RYUGYONG HOTEL, NORTH KOREA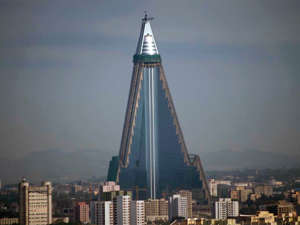 © Provided by The Huffington Post 2015-10-28-1446060230-303675-008.jpg PHOTO COURTESY OF FORGEMIND ARCHIMEDIA / FLICKR
Yeah, I wouldn't plan on trying to get into North Korea as a foreigner to visit this abandoned monstrosity. The 105-story pyramid-shaped hotel is unfinished with an unknown completion date. Plans to finish it keep happening and then getting postponed. It's been referred to as "The Hotel of Doom," and I'm pretty sure that's not a good thing.
THE SALTON SEA, CALIFORNIA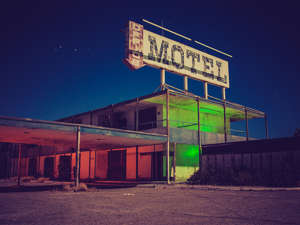 © Provided by The Huffington Post 2015-10-28-1446060275-9368262-009.jpg PHOTO COURTESY OF WAYNE STADLER / FLICKR
Besides parts of Serbia and Kosovo, this is one of the creepiest towns I've ever visited. The Salton Sea used to be a bustling resort town in the 1950s filled with gorgeous hotels and cottages in SoCal along the beach. After a series of unfortunate events that came with Tropical Storm Kathleen in 1976, most of the town was cleared out. Now you'll be met with the pungent smell of rotting fish, empty diners and abandoned hotels everywhere you look. It's still a ridiculous place to visit though.
LEE PLAZA HOTEL, MICHIGAN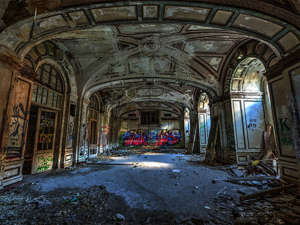 © Provided by The Huffington Post 2015-10-28-1446060383-7174274-010.jpg PHOTO COURTESY OF BROOK WARD/ FLICKR
Detroit used to be nice -- I think. Back in 1928, the Lee Plaza Hotel was created as a luxury residential hotel. It brought with it a stunning display of art-deco architecture to the city and contained 15 floors, 220 apartments, a lobby, many dining rooms, lounges and a ballroom. It closed during the '90s though, and it has been pretty much stripped of all its glamour.
DUCOR PALACE HOTEL, LIBERIA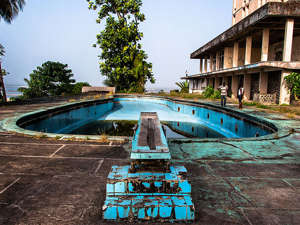 © Provided by The Huffington Post 2015-10-28-1446060406-9288589-011.jpg PHOTO COURTESY OF MARK FISCHER/ WIKIMEDIA
Overlooking the Atlantic Ocean, Ducor Palace Hotel in Liberia was one of the first international-class hotels in the country and was known for years as one of the few five-star hotels in all of Africa. Prominent African leaders met often at the hotel, but closed in 1989 right before the first civil war in the country.
HOTEL PRIPYAT, UKRAINE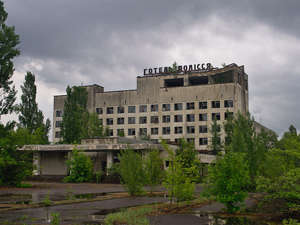 © Provided by The Huffington Post 2015-10-28-1446060459-2348655-012.jpg PHOTO COURTESY OF PAWEŁ "PBM" SZUBERT / WIKIPEDIA, LICENCJA: CC-BY-SA-3.0

Remember the Chernobyl nuclear disaster in 1986 that created an entire ghost town? Well, Hotel Pripyat was one of the town's most popular hotels. But if you're feeling up to it, you can apparently now even stay there as a guest for an exclusive day tour of the city. Sleeping in a once-abandoned Soviet hotel in a city that experienced a nuclear disaster seems totally safe, right?
THE DIPLOMAT HOTEL, PHILIPPINES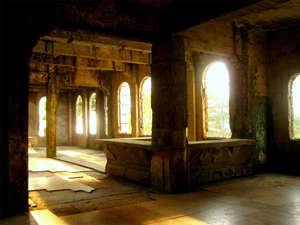 © Provided by The Huffington Post 2015-10-28-1446060481-2495586-013.jpg PHOTO COURTESY OF RAMILTIBAYAN / WIKIMEDIA
We got another haunted hotel here, people. This hotel in the Philippines was once occupied by fleeing refugees from the Japanese Army Forces, and the place was later bombed. It was reconstructed in 1947 and stayed open until the 1970s. Guests and nearby neighbors have claimed they've heard screams and seen headless ghosts walking around. It's probably abandoned for good reason then.
COCOA PALMS RESORT, HAWAII
© Provided by The Huffington Post 2015-10-28-1446060506-1032063-014.jpg PHOTO COURTESY OF PEPTIC_ULCER / FLICKR
Fifty years ago this resort in Kauaii was hailed as a luxury resort exclusive to only the rich and famous. And if the hotel looks familiar, that's because it was in the movie Blue Hawaii with Elvis Presley. But hurricane Iniki in 1992 damaged the resort beyond repair, and has since been left abandoned for over 20 years. Hey, maybe that's where Elvis' ghosts hangs out in the summers.
Also on HuffPost: