Thiel sells down Xero shares

NZ Newswire
5/04/2017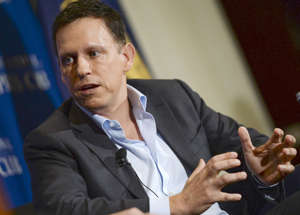 © ddp USA/REX/Shutterstock Peter Thiel Interests associated with tech billionaire Peter Thiel have sold about 1.1 million shares in Xero, reducing its overall holding to below 5 per cent.
Mr Thiel's VV Xero Holdings, Valar Global Principals Fund I and Valar Global Fund I raised about $22.6 million selling Xero shares between September and April 5, according to a statement to the NZX.
That trimmed Mr Thiel's holding to about 4.8 per cent from 5.6 per cent and means he is no longer classed as a substantial security holder.
Mr Thiel is a beneficial owner of the Valar funds and the sole owner of VV Xero, which sold most of the shares covered by the filing. Based on the value of the sales, the average price was about $20 apiece. The stock fell 0.5 per cent to $19.90 on Thursday.
He originally invested in Xero in 2010, before the shares soared, buying about 2.7 million shares for $4m. At Thursday's price that investment would be worth about $54m.
He topped up in 2012, joining shareholders including Trade Me founder Sam Morgan, former Xero chair Sam Knowles, MYOB co-founder Craig Winkler in buying shares at $2.75 each to raise $20m, and again in November of that year, via Valar Ventures, which also participated in Xero's $180m capital raising in late 2013. His holding peaked at 7 per cent in November 2012.
Mr Thiel helped set up online payments company PayPal and later sold it to eBay for $US1.5 billion ($NZ2.2b).
This year it was disclosed that Xero founder Rod Drury and Trade Me founder Sam Morgan wrote letters of support for Thiel's application for New Zealand citizenship, which was approved under the "exceptional circumstances" provisions of the Citizenship Act.
Xero shares peaked at about $46 in March 2014 before tumbling again in April and recording its single heaviest day of trading on May 30 of that year, when 7.1 million shares changed hands.