Three in custody after armed incident

NZ Newswire
13/03/2017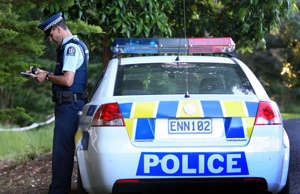 Three men have been taken into custody after reports of an armed incident at an Auckland diary was followed by a police car allegedly being fired at.
Police say they were called to a Mangere dairy about 2pm on Monday after reports of two men entering the premises and discharging a firearm.
There were four staff members in the shop as well as members of the public, including children.
"Thankfully no one was injured," Inspector Dave Glossop said.
The men fled the scene, allegedly taking the store's till and getting into a waiting vehicle.
Insp Glossop said officers saw the vehicle in Manurewa, and a pursuit began, but it was abandoned after a shot was fired at a police car.
Police inquiries, which included use of the Eagle helicopter, and help from the public resulted in three men being located and taken into custody.
Insp Glossop said a firearm was recovered and the three men - aged 29, 26 and 21 - were helping police with their inquiries.
He said those in the dairy were shaken by what had happened and were being given victim support.
The police officer allegedly fired at was being supported by his colleagues.
Insp Glossop said it was "a very serious incident" and information on charges would be provided when it became available.