Thunder spark to win NBA playoffs win

NZ Newswire
22/04/2016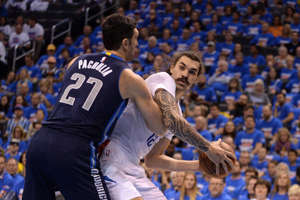 © Mark D. Smith/USA TODAY Sports Steven Adams Steven Adams' Oklahoma City Thunder have edged ahead of the Dallas Mavericks 2-1 in their NBA play-off series with a comprehensive 131-102 game three win in Dallas.
Adams was on court for a shade over 22 minutes, contributing four points and six rebounds as well as picking up an assist and a steal.
Kevin Durant topped all scorers with 34 for the Thunder, with Russell Westbrook adding 26, while Wesley Matthews led the Mavericks with 22 points.
Even with the lopsided score, things got heated between the teams. Midway through the third quarter, Mavericks guard Raymond Felton, who is 1.86m, and 2.13m Adams went at it briefly.
Upon review, each was charged with a technical foul, and the game stayed chippy for a while after that.
The scuffle briefly sparked the Mavericks, who went on a 10-3 run to pull to within 77-67 with just over five minutes remaining, but never truly threatened.
Game four in the best-of-seven Western Conference series is scheduled for Sunday (NZT) in Dallas, where the Thunder are now 3-0 this season.