To find girl missing 33 years, Fla. police gave her a voice on Twitter. It was eerie.

The Washington Post
30/05/2017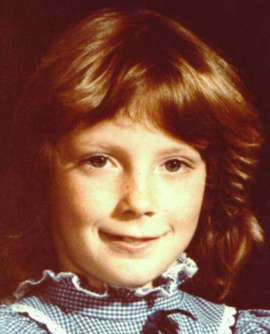 Hi, my name is Marjorie "Christy" Luna. I disappeared 33 years ago, at the age of 8. I was never found and this is my story… #Justice4Lunapic.twitter.com/xAfBV9mqpI

— PBSO (@PBCountySheriff) May 26, 2017
The day she disappeared, 8-year-old Christy Luna wore freckles, a turquoise body suit and no shoes.
It was Memorial Day weekend in 1984, and the girl was in search of some food for her cats, Boo Boo and Skeeter. Christy left her home in Greenacres, Fla., where she lived with her mom and sister, Allie, and walked the 500 feet down the street to Belk's General Store.
Then Christy vanished.
For decades, detectives chased leads across the country, investigated at least four different men and kept in contact with Christy's distraught but undeterred mother, Jennie Johnson, who was napping when her daughter disappeared. The girl's face appeared on statewide billboards, milk cartons and America's Most Wanted.
Still, the case stalled, producing no arrests and no Christy.
Without answers, the mysterious kidnapping haunted Greenacres, a small community in Palm Beach County, and the law enforcement officers who had dedicated careers and cabinet space to solving it.
So over the holiday weekend, on the 33rd anniversary of Christy's disappearance, the Palm Beach County Sheriff's Department used an eerily unorthodox campaign to resurrect the girl's story — by resurrecting the girl.
Beginning May 26, the date before Christy disappeared, authorities let her imagined voice "take over" their Facebook and Twitter to recount in real time what she could have been thinking and feeling during her kidnapping all those years ago.
"Let me take you back to 1984, the time when I was a happy child, living in Greenacres with mommy, my sister Allie, Mama Kitty and her babies," the sheriff's office tweeted Friday morning, pretending as though Christy had typed the words herself. "Who would have thought that tomorrow would be the day I disappeared and was probably brutally beaten, raped, sold or murdered?"
Let me take you back to 1984, the time when I was a happy child, living in Greenacres with mommy, my sister Allie, Mama Kitty & her babies pic.twitter.com/5c0Y8Zs6V0

— PBSO (@PBCountySheriff) May 26, 2017
The tweets and Facebook posts in Christy's voice continued through May 27, the anniversary of her disappearance, and May 28, when Johnson went on the news to plead for the safe return of her child.
Mommy is on the news, now they'll be able to find me, right!? Everyone is so worried. Breaks my heart to see this #Justice4Lunapic.twitter.com/5UKF498WT0

— PBSO (@PBCountySheriff) May 28, 2017
Allie is getting together with The Church where we do Sunday school. They are passing out papers with my picture on them. Thank you pic.twitter.com/iT5v18uTnh

— PBSO (@PBCountySheriff) May 28, 2017
According to the tweets and newspaper accounts, Johnson let her daughters believe she was taking them to Disney World on May 26, 1984. They packed fruit, sandwiches and blankets and set off on a road trip. But instead of Disney, they went to Dubois Beach, a coastal park in the city of Jupiter.
"Guess what!!!???" one tweet read. "We didn't make it to Disney! Mommy says we don't have money."
On May 27, they arrived home from their holiday trip, exhausted. Johnson got them Wendy's fast food. Christy ate, but Allie, 10, went straight to bed in the small room the sisters shared because they were afraid of the dark. Johnson napped, too, while Christy searched for loose change and ventured to the store.
At 8:30 p.m., Allie woke up to an empty bedroom. She waited 30 minutes, reported the Miami Herald, then stirred her sleeping mother.
"Mommy," Johnson recalled Allie saying, "where's Christy?"
They questioned neighbors, searched dumpsters and visited Belk's, where people said they saw Christy buy the cat food then step outside to watch other children play with fireworks.
The sheriff's department tweets did not go into detail about what happened next, but offered an imagined inner dialogue that left some followers chilled and perplexed.
Wait, something doesn't feel right… Someone keeps looking at me… Something is wrong; my heart is pounding . . . #Justice4Luna

— PBSO (@PBCountySheriff) May 27, 2017
HELP!!!

— PBSO (@PBCountySheriff) May 27, 2017
STOP!!! NOOO, DON'T DO THAT!

— PBSO (@PBCountySheriff) May 27, 2017
Why are you taking me? Why are you doing this? Nothing will ever be the same after this… #Justice4Luna

— PBSO (@PBCountySheriff) May 27, 2017
…

— PBSO (@PBCountySheriff) May 27, 2017
The remaining tweets seemed to speak directly to Christy's mother.
Mommy & Allie went to my friend's house and the neighbors. Mommy is holding my picture, asking them if they've seen me. It's about to rain.. pic.twitter.com/QLd40kIydy

— PBSO (@PBCountySheriff) May 27, 2017
"911, what's your emergency?" – Mommy is calling the cops. Yes, ask for help. Have them look for me, mommy. I'm so scared! #Justice4Luna

— PBSO (@PBCountySheriff) May 28, 2017
And in some tweets, the resurrected Christy spoke directly to followers interacting with her story:
Wow, that means so much. To think I was you're same age at the time and you were there trying to find me. Thank you. #Justice4Lunahttps://t.co/UoZit4iUtZ

— PBSO (@PBCountySheriff) May 28, 2017
I hope so too Darlene, I'm so scared! https://t.co/gG9m6wOVkc

— PBSO (@PBCountySheriff) May 28, 2017
While it seemed the reaction to the campaign was largely positive, eliciting thanks and emotion, others felt it was eerie.
"I like the idea behind this story thing," one man tweeted to the sheriff's office. "But it's a little creepy."
"Have you been hacked?" another tweeted.
And another: "Can you guys cool it with these bizarre tweets coming from a Missing Child/Adult?? We get it. It's tragic. We hope she's found. Just 2 Weird."
By now, Christy would be a 41-year-old woman. The National Center for Missing and Exploited Children developed a composite sketch of how she might look today, with blue eyes and wavy, chestnut brown hair.
It's unclear what impact the social media campaign had on the case, although the goal was to inspire someone, somewhere to come forward with fresh tips that might lead to a break.
A similar effort by Canadian authorities inspired Anthony Rodriguez, social media manager for the Palm Beach County Sheriff's Department. He attended a law enforcement conference in California in April, where he learned of the social media campaign the Royal Canadian Mounted Police had launched on behalf of Kerrie Ann Brown, reported the Palm Beach Post.
Brown was 16 when she was raped and murdered in 1986. Her killer was never found.
Canadian authorities had the dead girl "take over" their Facebook and Twitter in October, which produced tips and leads but no arrest.
"It was absolutely worthwhile," Tara Seel, spokeswoman for RCMP in Manitoba, told the Palm Beach Post. "There was no arrest but we definitely did get some action on the investigation."
In Christy's case, Florida authorities have thought for decades they knew who took her but were never able to establish enough evidence to prove it.
Victor Wonyetye was reportedly at a party in Christy's neighborhood the day she disappeared, reported the Palm Beach Post. He worked at a golf course, then moved to New Hampshire shortly after, where that same year another 8-year-old girl went missing while walking to school.
The school, authorities said, was near the body shop where Wonyetye worked.
Florida law enforcement traveled to New Hampshire and compared the two cases, but the man was never charged in either.
Wonyetye later returned to Palm Beach County, where he went on trial in 1992 for indecent exposure and burglary charges unrelated to Christy's disappearance. He was sentenced to 75 years in prison, the Palm Beach Post reported.
Authorities testified during the trial that prison inmates claimed that Wonyetye had admitted to killing Christy and the New Hampshire girl. He was released from prison in 2012. Eight months later, he died.
At a news conference in 2013, local authorities asked those who might have information about Christy's disappearance to come forward, hopeful that with Wonyetye dead they might be less afraid.
"Just not knowing, not knowing where she is is torture," Johnson said at the time. "I'll never give up until it's solved."
Two other men, brothers Willis and Chuck Rambo, lived in the neighborhood and were also investigated, but no evidence linked them to Christy.
Jenny Sampson, one of Christy's childhood friends, told TV station CBS 12 that a paranoia poisoned the neighborhood after her disappearance.
"You never even went to the grocery store or were out in public, or even just walked down the street without knowing that there was probably evil lurking," Sampson told CBS 12. "You learned that evil was absolutely in your neighborhood."
On Sunday, the sheriff's office closed out its social media campaign with one last plea from Christy:
"Thank you for letting me share my story," the final tweet said. "Now I ask you to help me. Share my story with others. Help my family find answers."
Thank you for letting me share my story. Now I ask you to help me. Share my story with others. Help my family find answers. #Justice4Lunapic.twitter.com/a5LQ3oGaVi

— PBSO (@PBCountySheriff) May 28, 2017