Top Ten Reasons To Visit Kerala

HuffPost
22/09/2015
Enticements on India's Exotic Malabar Coast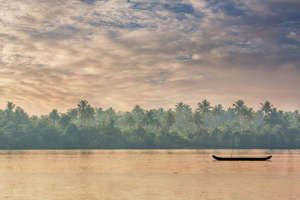 © Peter Zelei Images/ Getty Images Kerala backwaters, India. Once you're visited iconic India's "golden triangle" of Jaipur +Delhi + Agra, your next destination should be the country's exotic southwest Malabar coast. Originally capital of the spice trade, Kerala is a fantasy land of pristine white beaches, networks of waterways, misty mountains, and plantations producing tea and rubber, cinnamon and cardamon, nutmeg and allspice. Tigers and elephants thrive on its preserves, and encounters with monkeys, butterflies, cormorants are every day events. Voyagers are remiss not to savor the many unspoiled charms of India's magical province.

1. EXPANSIVE WHITE SAND BEACHES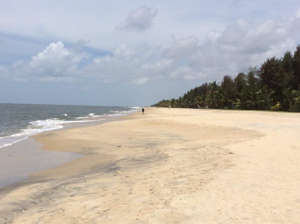 © Provided by The Huffington Post Gleaming white sand beaches s stretch up and down along Kerala's 350 mile long coastline. The Arabian Sea waters are so gentle and warm that bathers can wade right in. Resorts provide swinging hammocks and thatched huts on the shore.
2. A MAGICAL NETWORK OF WATERWAYS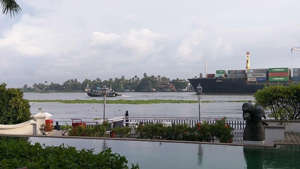 © Provided by The Huffington Post Cochi harbor is still an active waterway. Interconnected lakes, channels, canals, rivers, lagoons, rice paddies form a region sometimes called the "Venice of the East." Providing fish for dinner, shores for washing clothes, and spots for bathing are just a few of the features of the pervasive water culture. 
3. JUNGLY GREEN MOUNTAINS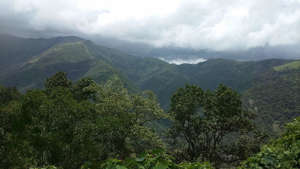 © Provided by The Huffington Post The Western Ghats lie within miles of the coast. Lining the eastern edge of the province, less than 60 miles inland, the Western Ghat mountains are home to plantations, waterfalls, and picturesque villages. Travelers are invited to try hiking and trekking trails and bamboo rafting.
4. NATURE AND BUSTLING VILLAGES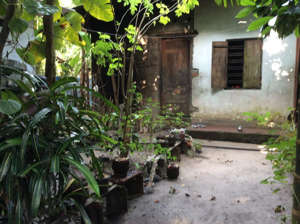 © Provided by The Huffington Post A Village home in Kerala. Many people of Kerala live in palm frond houses nestled into the jungle or in colorful waterside cottage villas. "Downtown" local villages bustle with storefronts, peddlers, jewelry shops, and a profusion of motorcycles, small cars, and tuk-tuks.
5. HOUSEBOATS, RESORTS, AND HOMESTAYS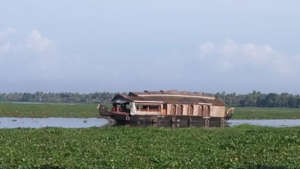 © Provided by The Huffington Post Houseboats glide through the waterways. Coir canopy vessels, converted from transporting rice, are fitted out with kitchens and bedrooms and rented out for houseboat excursions along the waterways. Visitors can spend the days wafting among water hyacinth plants, watching birds soar overhead, and enjoying the brilliant orange and pink sunsets. Ashore, luxury resorts blend into the landscape. Resorts run by the CGH Group feature featuring butterfly preserves, on-premises gardens, yoga and ayurveda facilities, along with swimming, tennis, cruises, and excursions. Dozens of "homestays" provide the chance to live in traditional homes and mansions. 
6. PROFUSION OF WILDLIFE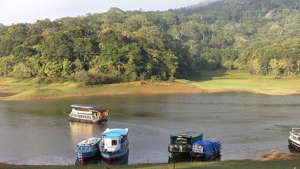 © Provided by The Huffington Post Artificial lake in Periyar Wildlife Sanctuary. Butterflies and dragonflies flutter through the flowers, monkeys dart around, birds soar overhead. Tigers and elephants roam the Periyar Wildlife Sanctuary, a converted royal hunting preserve which protects some of the more than 70 species found in the Western Ghats alone.
7. A LEGACY THROUGH HISTORY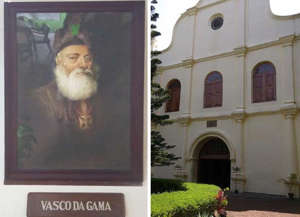 © Provided by The Huffington Post Portuguese Vasco de Gama first rounded Africa to reach India. The oldest Christian church in India still stands. Discovered by Portuguese explorer Vasco de Gama, who first rounded Africa, Kochi the port city, was the first Christian settlement on the subcontinent. Still standing since the 1500's is St. Francis, the oldest Christian church in India. Set up by the Catholic Portuguese, it became Lutheran under the Dutch regime until the British adapted it for as Anglicans. Colorful murals in the Dutch Palace Museum trace Indian tales of the gods and a portrait gallery chronicles Indian rulers of the region.
8. EXTENSIVE PLANTATIONS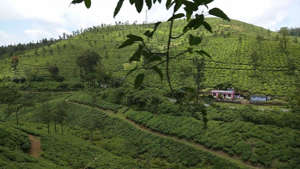 © Provided by The Huffington Post Geometric rows in tea plantation. Trees baring rubber, bananas, coconuts abound, interspersed with shiny green geometric tea plantings. Cashews, jackfruit, passion fruit, cinnamon, guavas, are among other local crops. Many resorts grow their own produce in extensive on-premises gardens. 
9. DELICIOUS REGIONAL CUISINE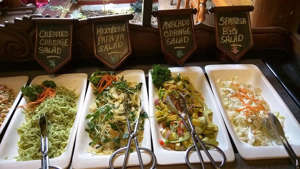 © Provided by The Huffington Post Local salad selection. Creative cooks transform the regional bounty into an acclaimed cuisine noted for inventive use of vegetables and spices.
10. HOSPITABLE PEOPLE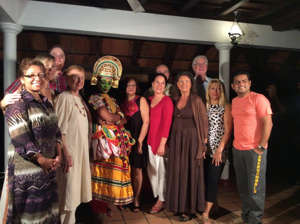 © Provided by The Huffington Post Kathakali dancer poses with visitors. The openness to the outside world which has characterized the province's Malayalis inhabitants through the centuries prevails today and the people of Kerala are warm, welcoming, and helpful to newcomers. Benefiting from the state's longstanding policy of universal education, Kerala has a literacy rate of over 90% and many residents speak English as well as the official Malayalam state language. Friendly and eager to help, they are wonderful hosts, proud to show off the region they call "God's own country" to guests.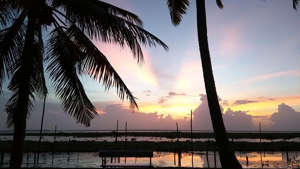 © Provided by The Huffington Post Sunset in Kerala. Trips to Kerala can be arranged through travel agents and through Make My Trip which specializes in travel arrangements for the India region.
Photos by Sharon King Hoge and Iris Salazar.