Torch tour marks women's role in police

NZ Newswire
23/06/2016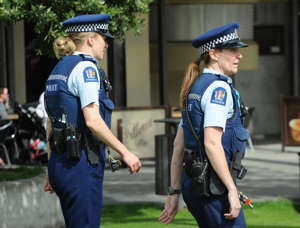 © SNPA / Ross Setford olice women, female police officers, Palmerston North, New Zealand The Olympics may be just weeks away, but police are taking a torch around the country for a very different reason.
On Friday, police will mark 75 years of women on the force with two torch relays starting at opposite tips of the country.
One of the torches will make its way from Bluff, stopping over for a bungee in Queenstown and run up the Heaphy Track, while the other will leave from Cape Reinga, with a luge and a waka trip along the way.
The lights, carried by police staff, will meet up in Wellington on August 1 for a national parade of current and retired policewomen.
Women were first made "temporary constables" in the New Zealand Police Force in 1941, with duties largely relating to women and children.
But it wasn't until 1952 that eight women were given uniforms and made the first official female officers. Even then, policewomen were paid less than their male counterparts until 1966.
Commissioner Mike Bush said women were now "integral" to the police.
"I know our district-based staff are looking forward to celebrating with their communities as the relay passes through many towns and cities across the country," he said.