Tough for Wales to back up midweek: Cane

NZ Newswire
12/06/2016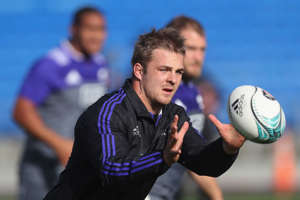 © Phil Walter/Getty Images Sam Cane of the All Blacks takes a pass during a New Zealand All Blacks training session at Trusts Stadium on May 31, 2016 in Auckland, New Zealand All Blacks flanker Sam Cane will be watching with interest when the Chiefs, the Super Rugby side he co-captains, takes on Wales in Hamilton.
But he's also happy not be on the field on Tuesday night, three days after New Zealand won the first Test 39-21 in Auckland.
"Normally you're just coming right after a Test on Tuesday, so I'm glad I'm not playing," he said.
The match is Wales' one midweek fixture of their three-Test tour and it marks a homecoming for coach Warren Gatland.
Cane, one of eight Chiefs players on All Blacks duty, said it would be a big occasion for the hosts at Waikato Stadium.
"There are a few boys who haven't had a run in a wee while in a Chiefs jersey and to get the chance to play an international side is very special," he said.
"I'm sure it will be a good game. It will be tough for some of the Welsh boys to back up but that's what they've decided to do."
New Zealand coach Steve Hansen was also pleased his players wouldn't be in action in midweek.
Looking ahead to the second Test in Wellington, Hansen expected Wales to try to chance their arm again, like they did at Eden Park.
"They're not going to win by kicking penalties and I think they've worked that out," he said.
"So they'll come and they'll throw the kitchen sink at us again."
But the extra outing against the Chiefs would test their stamina at Westpac Stadium.
"It's just the energy levels that are required to do that," Hansen said.
"It's difficult at the end of a season and even more so when you have to play half your squad again on Tuesday."
Gatland has brought 35 players and he said touring could be difficult for those not selected for the Tests if they got no game time.
"For everyone here, they know they're going to be involved," he said.
"If you're not involved in the first game, you're going at least to be playing against the Chiefs. It's tough for us, but we just have to box on."