Tourists urged to leave Kaikoura

NZ Newswire
14/11/2016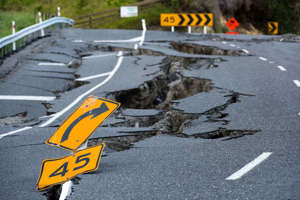 7.8 magnitude earthquake: In pictures Hurunui District's mayor believes tourists will need to get out of earthquake-stricken Kaikoura before their euphoria turns to frustration.
More than 1000 visitors were staying in the resort town when the magnitude-7.5 quake hit and massive slips cut it off from the rest of the country.
The jolt has been blamed for two deaths and aftershocks have continued to rattle the east coast and up to Wellington - which also suffered damage.
Mayor Winston Dalley says water and infrastructure are key issues for the 3600 residents who live in and around Kaikoura.
There was some in the reservoirs and residents were being urged to conserve their use, he told Newshub on Tuesday morning.
The army would bring bladders of water in, which might need to be treated.
RNZAF helicopters had evacuated some tourists and others had gone out in private choppers.
"Many are sleeping out. I think the key is to get them out soon... as you know with these events frustration will start to build once the euphoria passes," Mr Dalley said.
The HMNZS Canterbury is heading to the town, but the multi-role vessel won't be in Kaikoura until Wednesday.
Civil Defence officials believe it will be at least two days before they can open the Inland Kaikoura Road to at least one lane.
About 700 people stayed at the town's marae on Monday morning but that had dropped to between 70 and 100 overnight.
"We could get that many out if that's how many needed to go," Civil Defence acting national controller Shane Baylely told reporters in parliament's bunker on Tuesday morning.
China has sent helicopters to evacuate some of its nationals, Mr Bayley said.
Power and telecommunications in Kaikoura had been intermittent and it could be a week before landlines are reconnected Mr Bayley said.
Civil Defence staff were in Kaikoura on Tuesday morning to support people, coordinating firefighters, police and Defence Force personnel.
Officials are urging people to be ready for aftershocks and follow safety messages.
GeoNet says four faults look to have been involved in the event, which hit just after midnight on Sunday night.
The Kekerengu Fault appears to have slipped 10m while the Hope and Hundalee Faults have also moved.
A new fault has now been identified at Waipapa Bay.