Trade, UN on agenda in Russia discussions

NZ Newswire
17/08/2016
While New Zealand is not part of sanctions and counter-sanctions, they have constrained trade relations, resulting in a decline over the last two years, he said after meeting with Russian Foreign Minister Sergey Lavrov in Moscow.
The two countries had been negotiating a free-trade agreement but they were suspended in 2014, when Russia annexed Crimea in the Ukraine. New Zealand also banned Russian and Ukrainian individuals from travelling here.
Before that, New Zealand exported about $240 million worth of agricultural goods to Russia and imported $522m worth of goods, mainly crude petroleum, fertilisers and copper.
"We have discussed how we can improve trade outcomes... and maximise the real potential for our trade and economic relations," Mr McCully said late on Wednesday.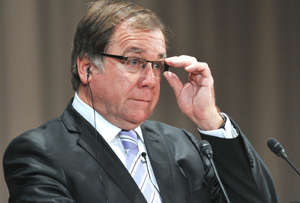 © Bloomberg Foreign Minister Murray McCully He also urged Russia to use its "very significant influence" to broker a resolution in Syria, while Iraq, Libya, Yemen, the Middle East Peace Process and Korean peninsula were also on the agenda.
"And we have made clear our own view that the UN Security Council, a body charged with pursuing international peace and security, needs to step up and play a leadership role if the parties cannot find a way forward," Mr McCully said.
Mr McCully's meetings in Moscow come just after a visit by former prime minister and UN secretary-general candidate Helen Clark - where she doesn't appear to have garnered local support for her bid.
"We fully understand (Russia's) view that an eastern European secretary general should be appointed as a consequence of the rotational process," Mr McCully said.
The foreign ministers also discussed shared interests in Antarctica while Mr McCully recorded New Zealand's appreciation of Russia's intention to send a naval vessel to the New Zealand Navy's 75th anniversary celebrations later this year.