Trafficking case sets example: activist

NZ Newswire
14/12/2016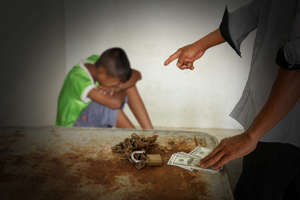 © iStock/Getty Images The sentencing of the country's first convicted people trafficker should give other exploitation victims confidence to speak out, activists say. The country's first prosecution for people trafficking shows exploitation is a real issue and should give victims confidence to speak out, a campaigner says.
Feroz Ali, 46, on Thursday became the first person in New Zealand sentenced for people trafficking after bringing 15 Fijian workers illegally into the country and subjecting them exploitative working conditions on farms in the Bay of Plenty between 2013 and 2015.
He was handed a sentence of nine years and six months in the High Court at Auckland in what Justice Paul Heath called an abhorrent crime against human dignity.
Outside the court, Peter Mihaere, from activist group Stand Against Slavery, told reporters he hoped the sentence would give confidence to any other victims of exploitation.
"They live in fear at the moment. It's been a real struggle to get people to come and actually talk about this because they in fear for their job, for their livelihoods, of how they'll be treated," he said.
"But when you get a judgement like this, and the research that's been coming out, we can now bring some confidence to people who are vulnerable to say: 'Why don't you come forward'."
A report released this week found migrant worker exploitation was widespread in some industries in New Zealand and described Ali's case as 'tip of the iceberg'.
Mr Mihaere said Ali's punishment backed up the findings.
"What's nice about this judgement is that it firmly and squarely says: it's happening here and we are actually prosecuting, and were charging, and people are going to prison as a result," he said."
"This is the first case of its kind and I think a strong message needed to be there, and I think [Justice Heath] did that well."
The study found some people were working up to 18-hour shifts without a break, were being paid as little as $4 an hour and examples of a cash-for-residency scheme where workers were exploited in return for employers assisting with their visa status.
But Workplace Relations Minister Michael Woodhouse said while exploitation in any quantity was a serious concern, he didn't believe it to be widespread or pervasive.
In a statement, Immigration New Zealand assistant general manager Peter Devoy said Ali's sentence showed people trafficking and immigration fraud were being taken seriously and would act as a "huge deterrent".