Transport woes continue after big quake

NZ Newswire
14/11/2016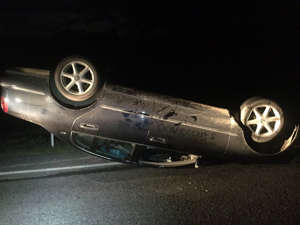 © @henrymcmullin / Twitter A flipped car on State Highway 1 near Christchurch. The words "driver out & safe" were written on the side. KiwiRail will know by Monday night if it can resume running Wellington metro trains on Tuesday as it also inspects significant damage to its South Island line between Seddon and Kaikoura.
Speaking to the media just five minutes after another aftershock rattled Wellington, KiwiRail chief executive Peter Reidy said his inspectors had to clear the city's overhead line for operation and check a pedestrian overpass in Lower Hutt for structural damage.
He said his team should know by 5pm or 6pm if services can resume on Tuesday.
Mr Reidy also said it would be a minimum of 48 hours before the rail line between Seddon and Kaikoura could be re-opened.
He described seeing one picture after Monday's quake in which a rail line near Kaikoura had been swept around 20m away from its foundations.
"It has certainly been the worst (damage to the line) since the (2010) Christchurch earthquake,"' he said.
Mr Reidy said he had no idea yet what the damage bill would be.
He said he was confident the Greymouth to Christchurch tourism train could soon operate, while lines south of Christchurch were already operating.
Despite 225 passengers, who were stuck aboard a ferry off Picton on Monday morning before disembarking, KiwiRail staff remain on-board two more ferries waiting in Wellington harbour for port facilities to be cleared so they can berth safely.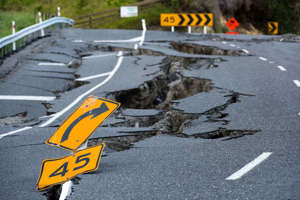 Mr Reidy said he was confident the ferries could soon resume transporting passengers and trucks across Cook Strait, but that there would be continued delays moving freight goods intended to be transferred onto trains because of the Seddon-Kaikoura line's closure.
He said KiwiRail was in talks with coastal shipping companies to help move freight currently stuck in Picton to other destinations in the South Island.
Meanwhile, a number of South Island roads remain closed, including State Highway 1 between Picton and Waipara, although a detour was in place between Picton and Blenheim.
SH7 is shut from Waipara to Springs Junction.
Civil Defence is warning people not to come into central Wellington and Lower Hutt due to damage to buildings, with no trains or replacement buses going into the city on Monday.
Wellington City Council said there was no longer a tsunami risk but advised residents to stay off beaches and tidal areas.
All roadworks in the city have been cancelled until the evening.
Both Wellington and Christchurch airports were operating as usual.