Treasury again criticises Chch rebuild

NZ Newswire
7/04/2016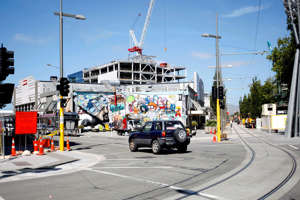 © Associated Press/Nick Perry A vehicle is driven past a construction zone in Christchurch, New Zealand. Five years after a devastating earthquake, the ravaged city center is still largely an empty core, and it's unclear how long it will remain that way Treasury has again criticised the Christchurch rebuild, giving core projects an overall red flag rating in its latest review.

The review covers progress on the government's 41 biggest projects nationwide and there's been a general improvement since the last review report in December.
That report delivered a bleak prognosis of Christchurch's anchor projects, saying a number of milestones had been missed.
The latest report, released on Thursday, also gives the rebuild an overall red flag rating which means there are "major issues" with project definition, schedule, budget and quality.
Labour's Canterbury spokeswoman, Megan Woods, says only five of the 12 anchor projects have completed business cases despite millions of taxpayer dollars being spent on them.
"This is the second report in a row from Treasury to give the central city rebuild the worst possible grade," she said.
When the December report was released, Earthquake Recovery Minister Gerry Brownlee described it as "quite extraordinary" and said it wouldn't have any impact on the rebuild.
Finance Minister Bill English said he wasn't concerned because Treasury measured the projects against "a perfect theoretical track" and in Christchurch almost nothing had followed that track.