Tributes to co-pilot and model Sisy Arias killed in Colombia plane crash

Evening Standard
2/12/2016
Tributes have been paid to a young co-pilot and model who was killed in the Colombia plane crash.
Sisy Arias, 29, a well-known model in Colombia, was working on the charter plane as a civilian co-pilot for the first time when it hit a mountain on its way to the city of Medellin.
© Provided by Independent Print Limited Sisy Arias Ms Arias was among 71 people killed in the crash alongside the majority of the Brazilian football team Chapecoense. Six people survived.
Footage emerged of her sitting in the cockpit of the plane being interviewed hours before it took off from Bolivia.
© Provided by Independent Print Limited Ms Arias was a well-known model in Colombia Ms Arias can be heard telling the interviewer the flight crew hoped to offer the football team the best service and that it was important to know they were using a Bolivian airline to take them to Medellin.

Her father, a Colombian journalist, revealed his daughter's death on social media.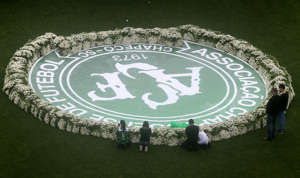 Tributes paid to Colombia plane crash victims He wrote: "I hope God will keep her in his glory. My girl, I love you, I loved you and I will always love you."
Her brother, Junior Arias Paravicini, also wrote on Facebook: "Dear Sister I'm going to miss you the rest of my life I have left, I have no words to express all the pain and emptiness I feel."
Crash investigators, including British aviation experts, were on Thursday still trying to find out why the jet apparently ran out of fuel before crashing into the mountainside just a few miles from Medellin's international airport.