Tries needed to down All Blacks: Biggar

NZ Newswire
20/06/2017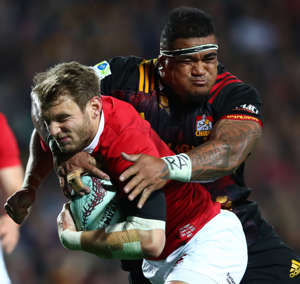 His participation in the match may be unclear, but British and Irish Lions first-five Dan Biggar says his side will need to score at least 30 points to topple the All Blacks in Saturday's first Test in Auckland.
Biggar, pulling on the No.10 shirt for the Lions' mid-week group, guided his side around the park admirably as they trumped the Chiefs 34-6 on Tuesday.
Unlike the tourists' stoic but dull performances so far, the Lions chanced their arm with plenty of running rugby and attacking footy in Hamilton, scoring four tries - all aided by a dominant tight-five display.
It's a mindset that the 27-year-old Biggar - whether he plays on Saturday or not - said was crucial for a chance of victory against the slick All Blacks.
"You're not going to beat the All Blacks 9-6, you're going to have to score tries," the Ospreys and Wales playmaker told reporters.
"Whoever they play against, they're going to score two, three, four tries a game.
"We know we'll have to limit the amount of chances they get, be defensively on the money, but realistically, to beat the All Blacks in New Zealand, you're probably going to have to score 30 plus - that's something we've spoken about."
Despite his strong showing, including 12 points with the boot, Biggar is likely to make way for Johnny Sexton or Owen Farrell at first-five on Saturday.
He insisted he'd do all he could to prepare the starting No.10.
"It gives a good performance for the week in terms of the Test boys, whoever's in that XXIII - it's about getting supportive of whoever's selected now because it's not individual stuff, we're here to win a Test series," Biggar said.
"You put this shirt on and it's an absolute honour, and (captain) Rory Best spoke so well and led so well this week, making sure that, whatever our motivation was, it was a real performance of courage and rolling your sleeves up.
"It was just nice to play with some front-foot ball, good runners coming off us - it's always pleasing when those types of movements come off."