Trump hits back as judge blocks travel ban

Sky News
4/02/2017
The White House has described a nationwide ruling against President Trump's controversial travel ban as "outrageous".
US District Judge James Robart ruled against government lawyers at a hearing in Seattle, saying that there was a strong likelihood that a legal challenge against the ban would succeed.
But hours later, the White House issued a statement saying it intended to file "an emergency stay of this outrageous order" at the earliest possible opportunity.
It described Mr Trump's executive order as "lawful and appropriate", adding: "The President's order is intended to protect the homeland and he has the constitutional authority and responsibility to protect the American people."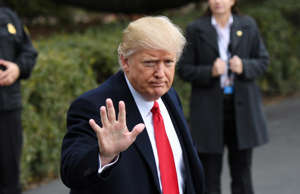 In a revised statement issued minutes later, the White House removed the word "outrageous" from its comments.
The row is over an executive order, signed by President Trump, stopping people who hold passports from Iran, Iraq, Libya, Somalia, Sudan, Syria and Yemen from entering the US - and also temporarily halting the entry of refugees into the country.
The legal challenge was brought by Washington state - one of two states which urged a legal fight against it.
In blocking the President's order, Judge Robart ruled: "The state has met its burden in demonstrating immediate and irreparable injury."
Washington state's Attorney General Bob Ferguson, who brought the case, said: "Washington has a profound interest in protecting its residents from the harms caused by the irrational discrimination embodied in the order. "The law is a powerful thing - it has the ability to hold everybody accountable to it, and that includes the President of the United States."
A number of large businesses based in Washington state - including Microsoft, Amazon and Expedia - have supported the legal challenge. They claim it is hurting their operations.
Despite intense criticism both at home and abroad, President Trump has defended the order - insisting it is necessary for national security reasons.
On Friday, a US Justice Department lawyer revealed that 100,000 visas had been cancelled in the wake of the travel ban. The US State Department later contradicted that figure, and suggested the real number was fewer than 60,000.
It claimed the higher figure included diplomatic and other visas which were exempted by the travel ban, as well as expired visas.