Tsunami alert system won't be rushed

NZ Newswire
20/11/2016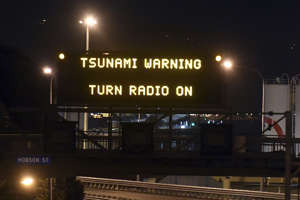 © Associated Press Motorway sign warning of Tsunami, in Wellington, Monday, Nov. 14, 2016, after a major earthquake struck New Zealand's south Island early Monday. A national tsunami alert system won't be rushed out despite warning failures following the Kaikoura earthquake.
The Ministry of Civil Defence and Emergency Management is under fire after it initially played down the chances of a tsunami following last Monday's magnitude-7.8 quake.
Ministry director Sarah Stuart-Black says it was initially thought the quake was land-based, which don't normally create tsunamis.
But it became clear that tidal gauges picked up a change in sea height and a tsunami threat was issued, although if it had been sizeable it would have been too late for anyone in its path.
Ms Stuart-Black said any alerting system relied on science being able to predict a tsunami - and the best warning was still the quake itself.
"If you feel that long, strong earthquake that you take immediate action and don't wait for an official warning because a tsunami can arrive within minutes," she told Newshub on Monday morning.
There is still a good chance of a sizeable aftershock big enough to create a tsunami.
The government has decided an alert system is needed but acting Civil Defence Minister Gerry Brownlee says a text message-based system could be 18 months away.
Ms Stuart-Black would like to see it in place sooner but it needed to be reliable and they weren't just going to go out and buy something.
"We need to ensure this system is implemented appropriately so that we can have confidence in its reliability.
"We still say there is no silver bullet, that we must have multiple ways that we inform communities, whether that's via radio, TV, obviously public alerting and other ways."
A system using radio and satellite transmissions, called Tsunado, has been touted as a possible solution.
Ms Stuart-Black said she had looked at it but neither she nor former director John Hamilton had endorsed it.
The national body had done the due diligence and provided a report to regional groups so they could make the decision.
It was only one of a number of commercial products available, she said.