Turkish police block demos marking attack anniversary

Associated Press
10/10/2016
Authorities, citing security concerns, banned large-scale commemorations that were scheduled for Monday to mark the first anniversary of the twin suicide bombings that targeted peace activists gathering for a rally in front of the station. The attack was the deadliest in Turkey.
Police blocked roads leading to the station and barred demonstrators from marching to the station, chasing some of them down a main street.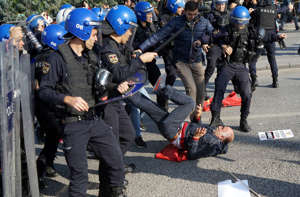 © Umit Bektas/ REUTERS Riot police clash with demonstrators who gathered to commemorate last year's deadly suicide bombing near the main train station in Ankara, Turkey, October 10, 2016. However, authorities allowed families of the victims and some representatives of civil society groups to lay carnations at the spot.