Twitter Shares Test New All-Time Lows After Its Q1 Earnings Fail To Excite Investors

TechCrunch
30/04/2014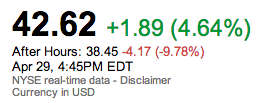 Twitter's stock is , hitting a new low of $38.27, below its previously recorded lowest-point of $38.80. Twitter went public for $26 per share and shot to more than $74 per share at its peak. It opened around $45 on its first day public.
The following image comes moments after Twitter traded for $38.27. However, given that I decided to , and screenshot second, the number had changed slightly. Still, at $38.45 a new low has been set:
Twitter of $183,000, or $0.00 per share today, on revenue of $250 million. Those first quarter results were better than investors expected.
It didn't help much: its stock slid after clocking of 5.8% on a sequential quarter basis. That's its second lowest tally ever, only bested in by the fantastically slim 3.8% sequential quarter growth that the company posted in the fourth quarter of 2013.
Investors are not enthused. Testing new share-price lows, Twitter is dampening the mood on the street for technology shares in general. This could retard the pace of technology IPOs, delaying liquidity for investors and LPs and employees alike, slowing capital formation for private companies, and .
It won't bring down rent prices in San Francisco, but these declines matter.
Twitter posted a much wider decline after its first earnings report as a public company, so perhaps today is progress of decline.