Two arrests in 15-person Auckland brawl

NZ Newswire
22/03/2017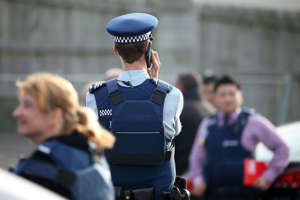 © Fiona Goodall/Getty Images File photo Two men have been arrested following a large brawl near a south Auckland train station that left at least one person in hospital.
Police say they found about 15 people at the scene of a fight near Homai train station in Wiri on Tuesday evening and that several people were knocked unconscious during the scrap.
Two men, aged 21 and 25, had been arrested since and issued warnings for disorderly behaviour, Counties Manukau central area prevention manager Inspector Adam Pyne said.
"We have identified two others involved and are following up with them and their families," he said.
One of those was a 15-year-old boy who was taken to Middlemore Hospital following the fight but released since.
"As we are still in the process of gathering CCTV and cell phone footage it is too early to say exactly how many people were involved but we estimate that around 15 people were present at the time."
Insp Pyne said police were working closely with Manurewa High School over the incident.
"Principal Pete Jones says the school will continue to assist police as necessary and would like to echo the comments that this behaviour is unacceptable."