Two new caps in Black Sticks women's squad

NZ Newswire
31/10/2016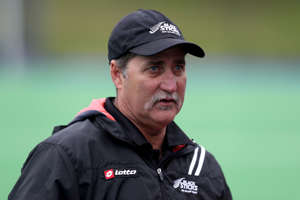 Black Sticks women's coach Mark Hager has included two uncapped players to face Australia in the inaugural Trans-Tasman Trophy hockey series.
Capital midfielder/striker Felicity Reidy and Midlands defender Kim Tanner get the chance to make their international debuts in Auckland in November.
The 18-strong New Zealand squad includes eight players backing up from the Rio Olympics in August.
It also contains several players who have had limited time with the Black Sticks in recent years, including Samantha Harrison, Michaela Curtis and Jenny Storey.
The Trans-Tasman Trophy, which begins on November 17, involves both the men's and women's teams playing three-Test series.
Hager said it's the first step in the next Olympic cycle leading into the 2020 Tokyo Games.
"We've named a high quality group with plenty of players who have the opportunity to showcase their skills and put pressure on some of the more senior athletes," he said.
"This series is a great learning experience for all our players against an opposition in a similar transitional phase after the Olympics."
Striker Stacey Michelsen is the most experienced member of the squad with 216 test caps.
Four others - Olivia Merry, Pippa Hayward, Sally Rutherford and Liz Thompson - all have more than 100 international appearances.
Black Sticks women: Michaela Curtis, Natasha FitzSimons, Amelia Gisbson, Erin Goad, Jordan Grant, Samantha Harrison, Pippa Hayward, Rose Keddell, Rachel McCann, Olivia Merry, Stacey Michelsen, Kirsten Pearce, Felicity Reidy, Sally Rutherford, Kelsey Smith, Jenny Storey, Kim Tanner, Liz Thompson.