Two penguins killed by dog in Wellington

NZ Newswire
13/06/2017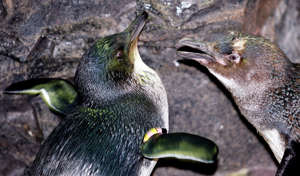 © Associated Press A 62-day-old baby Little Blue penguin, left, is approached by an adult penguin in this file photo. Two penguins have been killed in a dog attack in Wellington, the second time this has occurred in a month.
Wellington City councillor Peter Gilberd says the death of the two little blue penguins at Houghton Bay beach on Saturday highlighted the need to carefully supervise dogs - even in off-leash exercise areas.
A penguin was killed by a dog on Wellington's waterfront in May.
Mr Gilberd said in the latest case the dog owner acted responsibly and contacted the council and Department of Conservation, but he is frustrated the message might not be getting through.
"People must maintain control over their dogs at all times - whether the dogs are on a leash or not."
Penguins are protected by the Wildlife Act and could lead to prosecution.
During May and June, adult penguins come ashore to nest, which could be as far as 1.5km inland, while little blue penguins are found all-year round on the Wellington coastline.