Unheralded NZ 49er crew lead at World Cup

NZ Newswire
6/12/2016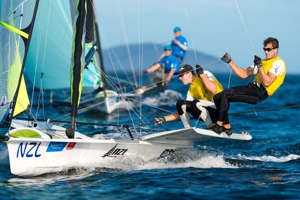 New Zealand's understudies to peerless 49er crewmates Peter Burling and Blair Tuke have claimed an early lead at the Sailing World Cup final regatta in Melbourne.
Isaac McHardie and William McKenzie won the first two races and were 11th in the other to sit at the head of a 19-strong fleet dominated at the top by Kiwis.
Spaniards Diego Botin le Chever and Iago Lopez Marra are second followed by third-placed Josh Porebski and Trent Rippey and fifth-placed New Zealand compatriots Nick Egnot-Johnson and Jack Rogers.
McHardie and Williams have been touted previously by Yachting New Zealand as a talented combination.
However, their international opportunities have been stymied by Olympic champions Burling and Tuke, who have dominated the class for the last four years but will spend 2017 focusing on America's Cup racing.
New Zealand are represented in 17 classes at the week-long meet.
Nacra 17 pair Olivia Mackay and Micah Wilkinson were third overall after notching a second-placed finish and two thirds.