US election jitters helps NZD rise

NZ Newswire
3/11/2016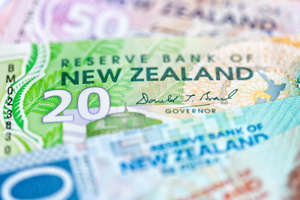 © powerofforever/istock/Getty Images US election jitters helps NZD rise The New Zealand dollar rose above 73 US cents for the first time in a month amid jitters about the US election next week and a slight reduction in bets that the Reserve Bank will cut interest rates at its next review.
The kiwi traded at 73.08 US cents as at 5pm in Wellington from 72.20 cents on Wednesday. The trade-weighted index climbed to 78.29 from 77.63 on Wednesday.
Financial markets have become unnerved by the close-run campaigns for the White House between Donald Trump and Hillary Clinton, with Reuters reporting an average of polls compiled by RealClearPolitics putting Clinton on 47 per cent support to Trump's 45.3 per cent, although other polls give her a wider lead.
Some economists have warned a Trump victory would be bad for global trade and the New Zealand economy.
Meanwhile, traders have reduced their bets that the RBNZ will cut the official cash rate next week after stronger than expected jobs data and dairy prices.
"Markets are on edge ahead of the election," said Mark Johnson, senior foreign exchange dealer at OMF.
"The Reserve Bank's monetary policy statement is probably playing second fiddle to offshore events" although the interest rate market has dialed back the odds of a cut next week to 74 per cent from 84 per cent, he said.
Traders will be watching for the rhetoric governor Graeme Wheeler uses for the guidance on interest rates. Johnson expects Wheeler to keep an easing bias in place even though the market doesn't believe he will cut again and he doesn't expect a cut next week to be passed on in full by the banks in terms of lower borrowing costs.
The kiwi climbed to 95.32 Australian cents from 94.60 cents. It gained to 59.23 British pence from 58.97 pence and rose to 65.70 euro cents from 65.19 cents. It rose to 4.9381 yuan from 4.8813 yuan and gained to 74.99 yen from 74.87 yen.
New Zealand's two-year swap rate fell 2 basis points to 2.13 per cent while the 10-year swaps fell 3 basis points to 2.81 per cent.