US gave NZ Maori too much room: Mitchell

NZ Newswire
5/11/2016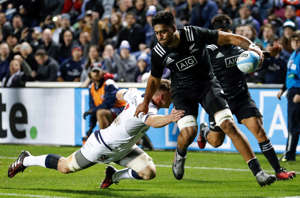 United States coach John Mitchell admits his side gave the Maori All Blacks far too much time and space in their 54-7 loss in Chicago.
Mitchell, a former All Blacks coach, took over the Eagles reins at the beginning of 2016 and had led the side to three wins, three losses and a draw before Friday night's clash.
But the Maori All Blacks were in a class of their own at Toyota Park, running in eight tries to one and rarely looking threatened by the Eagles' attack.
Mitchell told reporters after the game that his side would learn a lot from playing against Super Rugby and fringe All Blacks players.
"The way I look at it is, what did they create and what did we give them in that performance?" Mitchell said.
"We gave them a fair bit."
Mitchell, whose side will now travel to Europe for Tests against Romania and Tonga, said developing US players was a drawn-out process due to time demands.
Since taking over the job in January, he has built a playing base of 30 men and hopes to have 45 at his disposal by the end of 2017.
"We have to ride the development, the guys' intent is awesome and at the end of the day good execution follows good decision-making," Mitchell said.
"We're only together for 14 or 16 weeks in a calendar year and strength, conditioning and skill integration is not with us for the full 12 months."
The Maori All Blacks, meanwhile, also head to Europe for matches against Munster and Harlequins.