US Navy ship to visit New Zealand

NZ Newswire
21/07/2016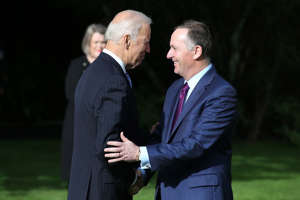 The United States will send a ship to the Navy's 75th anniversary in November, Vice-President Joe Biden has announced.
It will be the first US Navy ship to visit New Zealand since the anti-nuclear rift of the mid-1980s, and marks a new era in the relationship between the two countries.
Mr Biden accepted New Zealand's invitation to send a ship at a meeting with Prime Minister John Key in Auckland on Thursday.
"The United States gladly accepts the invitation," he said at a press conference after their talks.
"It will be another expression of our close relationship."
The US is one of 30 navies invited to attend the anniversary celebrations, and China has already accepted.
The US Navy hasn't sent a ship since New Zealand refused to accept the destroyer USS Buchanan in 1985.
The US, holding to its long-term policy, had refused to confirm or deny its nuclear capability.
Since then other nuclear powers, including Britain and France, have sent Navy ships.
The US still has a neither-confirm-nor-deny policy but this time it won't be asked the question.
The law requires Mr Key to be satisfied that a ship isn't nuclear-armed or nuclear-powered, on the advice of Foreign Minister Murray McCully.
US Navy surface ships no longer carry nuclear weapons.
Its submarines and aircraft carriers are nuclear-powered but most others are not.