US warship to visit New Zealand

NZ Newswire
18/10/2016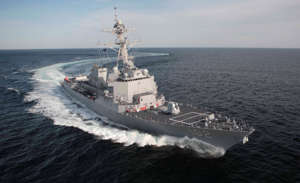 A US warship will visit New Zealand for the Navy's 75th anniversary next month, Prime Minister John Key has announced.
It's the USS Sampson, a destroyer, and it isn't nuclear armed or powered.
It will be the first US warship to visit a New Zealand port since the nuclear stand-off of the 1980s.
The US doesn't confirm or deny the capability of its warships, and until this year gave New Zealand the cold shoulder.
It still doesn't confirm capability, but it's chosen a ship that doesn't contravene New Zealand's anti-nuclear laws.
Mr Key says he's satisfied from advice received from MFAT that the USS Sampson is neither nuclear armed nor nuclear powered.
"The visit is a further reflection of the depth of the bilateral relationship with the United States," Mr Key said.
The ship visit was confirmed by US Vice-President Joe Biden when he visited New Zealand earlier this year, but it wasn't known until Tuesday whether it would be a warship.